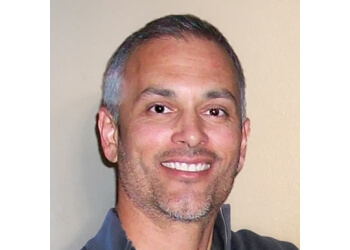 Ray Camacho is one of the leading physical therapists in Simi Valley, CA. He earned his Doctoral degree in Physical Therapy from the University of St. Augustine. He focuses on joint-specific mobilizations, treating dysfunction rather than pain, and restoring balance to the entire system through objectively backed scientific research, clinical examination, and biomechanical analysis. Ray is certified in Applied Functional Science (AFS) 3D Movement Analysis and Performance System (3DMAPS), Manual Therapy Certified (MTC), and Myofascial Manipulation. He serves as a physical therapist at Genesis Physical Therapy. The clinical team offers specialized treatment programs developed for individual needs.
Specialty:
Orthopedic Programs, Neurological, Pre/Postanal Rehabilitation, Aquatic Therapy, Pilates, Balance Disorders, Independent Exercise, Physical Therapy: Head, Foot, Ankle, Neck, Joints, Shoulders & Hand
Insurance Accepted:
Aetna, Anthem Blue Cross, Blue Shield, Cigna, Department of Labor, Directors Guild, Great-West Healthcare, Health Net, Humana, LA Firemans Relief Association, Mail Handlers Plan.
Contact:
Working Hours:
Mon-Fri: 7:30am - 6:30pm
Sat & Sun: Closed
TBR® Inspection Report: