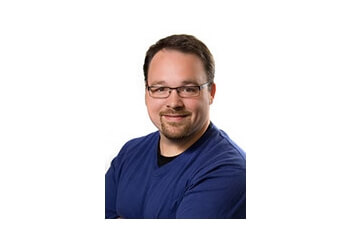 Zane Smith received his Masters's in Physical Therapy from Eastern Washington University. He enhances the patient's ability to treat themselves and continue to thrive on an independent basis. Zane specializes in treating orthopedic conditions his other professional interests include the management of chronic headaches including migraines as well as other chronic pain conditions. Zane Smith is the owner of Timberline physical Therapy. They have a fully equipped gym space and private treatment rooms. They have a staff of highly trained and experienced therapists to provide the highest level of patient-centered care available in Southwest Washington. Their team also specializes in preventative services and ergonomic assessments for industries.
Specialty:
Sprains, Strains, Tendon Ruptures, Tendonitis, Muscle Bruises, Contusions, Contractures, Ruptures, Spasms, Myositis, Headaches, Myofascial Pain, Neck Pain, Low Back Pain, Osteoarthritis, Dislocations & Ligament Injuries
Insurance:
Insurance Accepted
Accept Medicare, Workers' Compensation, and most private insurance plans.
Contact:
Working Hours:
Mon, Wed & Fri: 7am - 6pm
Tue, Thu: 8am - 6pm
Sat & Sun: Closed
TBR® Inspection Report: