Kyle Thrush, DPT - Green Oaks Physical Therapy Carrollton
Kyle Thrush attended the University of Kansas and the University of Texas at Arlington for his Undergraduate degrees before attending the University of St. Kyle Thrush, DPT - Green Oaks Physical Therapy Carrollton is one of the Three Best Rated® Physical Therapists in Carrollton, TX.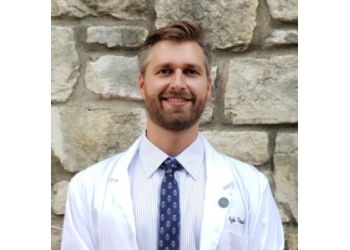 Augustine in Austin for his Doctorate of Physical Therapy in 2019. He has worked and studied Physical Therapy in multiple backgrounds over the past eight years, including skilled nursing facilities, long-term neurological care, and acute care hospital, to name a few, bringing those experiences to help adapt his care in the outpatient clinical setting. Kyle Thrush now practices at Green Oaks Physical Therapy Carrollton, which was started in 2000 with the mission of serving the local community with exceptional physical therapy care. Their therapists deliver a patient-centered, hands-on approach to physical therapy, sports medicine, and industrial rehabilitation care in the convenience of your hometown. They are all highly skilled and compassionate caregivers who take great pride in guiding their client's return to their way of life.
Strains/Sprains

Neck and Head Aches

Low Back/Spine Conditions

Arthritis/DJD

Tendonitis

Surgical Repairs/Reconstruction

Manual Therapy

Sports Injury Assessment

Treatment

Education and Prevention

Knee

Shoulder

Foot & Ankle Rehab
I recently visited Green Oaks Physical Therapy in Carrollton, Texas for some help with my back pain and I must say I am extremely grateful for the wonderful experience. The staff were all so friendly and accommodating from the moment I walked in, and they made me feel right at home. In particular, I would like to thank Alondra for being so patient with me and answering all of my questions. She went above and beyond to ensure that I had everything I needed and was comfortable throughout my time there. The entire staff was extremely professional, kind, and made my physical therapy experience pleasant. I also had the pleasure of working with Kyle, the physical therapist who helped me with my back pain. He was knowledgeable, skilled, and made sure I was comfortable with every exercise we did. He pushed me just enough to challenge me but was also very understanding of my limitations. I saw a significant improvement in my pain after working with him. Overall, I had a great experience at Green Oaks Physical Therapy in Carrollton, Texas, and I would highly recommend it to anyone in need of physical therapy services. Thank you to Alondra, the staff, and Kyle for their dedication to patient care.
Without reservation I give the. physical therapy I received at Green Oaks 5 stars. If I could, I would give the entire staff 10 stars. Always professional, courteous, and cheerful. My thanks to Kyle, Tori and their team for making my PT so successful and pleasant.
Therapist herr are very professional very good in what they do. Front office staff was always kind and very helpful on my schedule. Definitely recommend this lace!
Accepts Most Insurance, including Medicare & Worker's Compensation
Mon & Wed: 10am - 7pm
Tue, Thu & Fri: 7am - 4pm
Sat & Sun: Closed
Nearby Physical Therapists in Carrollton: