Christopher Khorsandi, MD - VIP Plastic Surgery
Christopher Khorsandi, MD - VIP Plastic Surgery is one of the Three Best Rated® Plastic Surgeon in Henderson, NV.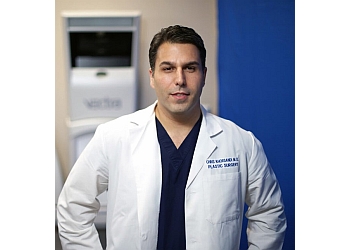 Dr. Christopher Khorsandi serves as the Chief Plastic Surgeon at VIP Plastic Surgery, a highly reputable practice in Las Vegas, NV. With extensive expertise in breast, body, and facial plastic surgery, he has established himself as a prominent figure in the field. Dr. Khorsandi completed his medical education at Temple University School of Medicine, where he developed a keen interest in plastic surgery. Dr. Khorsandi is dedicated to achieving natural and stunning patient outcomes by employing proven and innovative surgical techniques. He offers many procedures, including liposuction, tummy tucks, breast augmentation, breast lift, facelift surgery, and rhinoplasty. In addition to surgical options, Dr. Khorsandi provides a variety of non-surgical treatments tailored to meet individual needs. Dr. Christopher Khorsandi is highly skilled in performing injections, personally administering all skin injections to ensure personalized and exceptional results. He also offers an array of cutting-edge non-invasive treatments, including chemical peels, laser skin rejuvenation, radiofrequency skin tightening, ultrasonic treatments, and dermabrasion. Furthermore, he possesses expertise in male surgery procedures, dedicated to enhancing the figures of his male patients in and around the Las Vegas, NV, area. Dr. Khorsandi's primary goal is to deliver beautiful and natural-looking results, enabling patients to look and feel their best under his care.
Breast Augmentation

Lift

Reduction

Implant Revision and Asymmetry

Gynecomastia

Rhinoplasty

Turbinectomy

Chin Augmentation

Ear and Eyelid Surgery

Face

Arm

Brazilian Butt

Brow

Thigh and Neck Lift

Abdominal Etching

Body Contouring

Labiaplasty

& Mommy Makeover
To be honest, I was very nervous and skeptical about getting a hair transplant because it sounded too good to be true but the results were actually beyond my expectations. First off, Lee was amazing. His communication, education about FUE, friendliness, and easy going vibe helped me through this process tremendously. From the consultation before the transplant, during the procedure, and post-op, Lee treated me like family. I'm grateful for the experience I had and I highly recommend to any person that is experiencing hair loss, It's worth a try. The results I have achieved made it well worth it for me.
"I recently had an amazing experience getting my fillers done at this office. The staff was exceptional, starting with Judith at the reception desk who made me feel welcome from the moment I walked in. The entire team was professional, friendly and knowledgeable, and truly went above and beyond to make my experience as comfortable and seamless as possible. I highly recommend this office for anyone looking for top-notch cosmetic services with an exceptional staff!" Doctor Khorsandi is amazing.
They are the best! Highly recommend, They are professional, friendly and Dr Khorsandi's work is amazing, Dr Haim anesthesiologist is also professional and I felt safe and completely in good hands. My results were amazing and I highly recommend VIP plastic surgery. from the consult to the post- op it was an excellent experience.
Mon-Fri: 8:30am - 5pm
Sat & Sun: Closed
Nearby Plastic Surgeon in Henderson: