Nagi T. Ayoub MD, FACS - WESTFIELD PLASTIC SURGERY CENTER
Nagi T. Ayoub MD, FACS - WESTFIELD PLASTIC SURGERY CENTER is one of the Three Best Rated® Plastic Surgeon in Omaha, NE.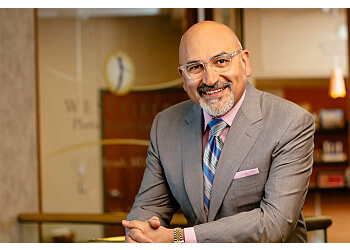 Dr. Nagi T. Ayoub is a skilled plastic surgeon with board certification and specializes in aesthetic and reconstructive plastic surgery procedures. His primary focus is delivering exceptional healthcare of the highest quality within a safe and comfortable environment. Dr. Ayoub is dedicated to staying up-to-date with the latest advancements in the field to ensure his patients in Omaha receive the most effective treatments for their desired outcomes. As the founder of Westfield Plastic Surgery Center, Dr. Ayoub and his team have actively contributed to the Omaha, NE, community for over 20 years. He offers complimentary consultations to prospective patients and utilizes Touch®'s innovative visual tools during these consultations to help patients visualize the potential outcomes of their treatments, aiding in their decision-making process. Throughout their longstanding presence in the community, Dr. Nagi T. Ayoub and the Westfield Plastic Surgery Center team have remained actively involved in serving the Omaha, NE, area.
Breast Augmentation

Implant

Lift

Reconstruction and Reduction

Coolsculpting for Men

Arm

Thigh and Body Lift

Mommy Makeover

Coolsculpting

Tummy Tuck

Liposuction

Blepharoplasty

Rhinoplasty

Otoplasty

Face

Brow and Neck Lifts

Laser Hair Removal for Men

Botox

Fillers & CO2 Laser Resurfacing
Dr Ayoub is amazing!! I went to him looking to have a mommy makeover done, and I am so glad I did. His entire staff was so kind and helpful as well. I could not be happier with the results, every time look in the mirror I end up just staring at my body for longer than I should because I am so thrilled with the results I can't stop myself!!! I finally feel comfortable for the first time in a long time and I love it. Big thank you to Amanda for always being sweet when I called a million times with concerns and questions and for spending WAY longer than we should have in the appointment deciding what size and shape for my breast( I am very indecisive). Dr Ayoub is truly an artist. He is very sweet, informative, and answered all my questions and made me feel good with my decisions. When I went in for my one week follow up appointment with him I could see that he was excited for my results and kept telling me I looked so good, I could tell that he really enjoys what he does. I would absolutely recommend him to anyone.
I had a breast reduction in December, and Dr. Ayoub AND his staff were absolutely wonderful! I have thought about this my whole life and have done quite a bit of research and they are hands down the best results! I would highly HIGHLY recommend to anyone if you have ever thought about doing this! I wish that I would have done it 10 years ago! It has completely changed my life and am very happy with the results!
Best doctor ever for a breast reduction! I literally had no pain and my results are amazing! Everything was perfect. I am beyond satisfied and thankful I found him. My daughter will be scheduling with him soon. If you are in need of a reduction I recommend Dr. Ayoub.
Discount
When you refer a friend or family member who books a surgical procedure, they reward you with a $100 gift certificate,

View Coupon
Mon, Tue, Thur & Fri: 8am - 5pm
Wed: 1am - 5pm
Sat & Sun: Closed
Nearby Plastic Surgeon in Omaha: