Dr. Steven Szames, DPM - FOOT AND ANKLE SPECIALISTS OF CENTRAL OHIO
Dr. Steven Szames, DPM - FOOT AND ANKLE SPECIALISTS OF CENTRAL OHIO is one of the Three Best Rated® Podiatrists in Columbus, OH.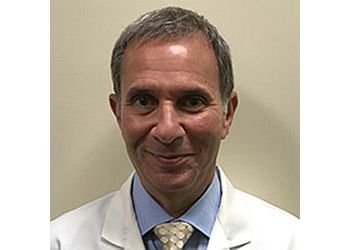 Dr. Steven Szames, DPM, stands among the leading podiatrists in Columbus, renowned for his expertise in foot and ankle care. Having successfully completed a two-year surgical residency at Doctor's Hospital in Columbus, he holds board certification in foot and ankle surgery. Dr. Steven Szames is currently affiliated with Ohio Health Hospitals and Mount Carmel Hospitals, and he practices at the esteemed Foot and Ankle Specialists of Central Ohio in Columbus. With over 28 years of experience, he is dedicated to providing each patient with the highest standard of foot and ankle care. Dr. Szames specializes in general foot care and possesses extensive knowledge in treating a wide range of foot ailments. Notably, he is among the pioneering podiatrists qualified in utilizing Pinpointe laser technology, a highly effective method for treating nail fungus. As one of the few podiatrists in Columbus utilizing this revolutionary technology, Dr. Szames ensures his patients receive exceptional care. Additionally, his services extend to Reynoldsburg, catering to a wider range of patients in the area.
Achilles Tendon

Sprains

Diabetic and Arthritic Foot Care

Athletes Foot

Bunions

Ankle Pain

Corns

Flat Feet

Foot and Ankle Surgery

Orthotics

Fungal Toenails

Hammertoes

Heel Pain

Spurs

Ingrown Toenails

Neuroma

Plantar Fasciitis

Warts

Sports Medicine & Total Ankle Replacement
Dr. Szamas performed a bunionectomy for me about twenty years ago, and I've had great results ever since. After the surgery i was in no pain at all, and I've recommended him many times to friends over the years. Great job, Dr.
Dr Szames was so nice to deal with — from my first appt to the final checkup. He was very professional yet showed his concern and was very helpful in answering my questions. I would certainly recommend him and his wonderful staff to anyone needing help in this area.
Dr. Szames has operated on me twice in less than 6 months due to a major injury to my right ankle. He saved my foot from being amputated I am sure. It has been 6 months since my last surgery and I have healed fantastic and I can walk again with no pain. I can't say enough about his care, his kindness, and concern over the last year that he has cared for me. If anyone needs a top doctor he is the guy! I can never thank him or his staff enough for all they have done for me. My appreciation is beyond what I can say about him and his staff to keep me walking. They will always be my favorites. Lisa Williams
Accepts Most Insurance Plans
Mon-Fri: 7am - 5pm
Sat & Sun: Closed
Nearby Podiatrists in Columbus: