Dr. Stuart M. Feldman, DPM, APC
Dr. Stuart M. Feldman, DPM, APC is one of the Three Best Rated® Podiatrists in Henderson, NV.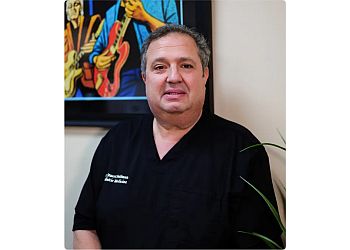 Dr. Stuart M. Feldman, DPM is a podiatry specialist in Henderson, NV. Dr. Stuart M. Feldman earned his medical degree from Temple University, and he did his residency at the Buffalo Veterans Affairs Medical Center. Dr. Stuart is interested in treating Plantar Fasciitis, Achilles Tendinitis, Nail Avulsion & Excision, and many more. He has been practicing with over 24 years of experience in the podiatry field. Dr. Stuart M. Feldman affords highly qualified treatment using the latest advanced technologies. Dr. Feldman prides himself in patient education and will thoroughly explain your condition and potential treatments. There is a Flexible appointment available. Dr. Stuart M. Feldman makes the patients feel happy through his treatment.
Ankle Sprain

Diabetic Wound Care

Foot Conditions

Hammer Toe

Foot Fracture

Arthritis Pain

Plantar Fasciitis & Achilles Tendinitis
Great doctor! Friendly staff and doctor. Explains everything and answers all your questions. Doctor had a funny sense of humor and jokes with you! We need more doctors out there like Dr. Feldman.
Went to see Dr Feldman for an ingrown that I had tried to fix myself On Friday, 9/6/19. FAIL!! I did more harm than good! I'm also a Type 2 Diabetic. Dr Feldman and his Staff were WONDERFUL!! The injections hurt like hell but they WORK! Dr. Feldman was funny, expeditious and efficient. The procedure was done quickly and precisely with virtually no pain. I swear!! This man is TRUTH! My toe is healing and my follow-up is soon. He said it wouldn't be pretty for a bit and I'm totally cool with that because there's NO PAIN!! Bless this man in all his endeavors-he's my Podiatrist for LIFE!! Highly recommend!!
Great Dr. ! He took care of my husband's ingrown toenail and he was fast and the procedure was painless (except for the anesthesia, that would be the only pain he felt), then after that his problem was gone. We were both very happy with his professionalism. He is very down to earth, you can really connect with him and he really cares for the patient's wealthbeing.
Aetna, Anthem, Anthem Blue Cross Blue Shield, Blue Cross Blue Shield of California, Blue Cross Blue Shield, CareFirst Blue Cross Blue Shield & Humana
Mon -Thu: 9am – 4pm
Fri: 9am - 12pm
Sat & Sun: Closed
Nearby Podiatrists in Henderson: