Abraham T. Fakhouri, MD
Abraham T. Fakhouri, MD is one of the Three Best Rated® Primary Care Physicians in Henderson, NV.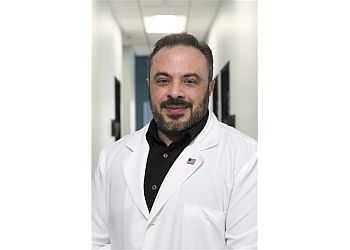 Dr. Abraham T. Fakhouri, a well-known primary care physician, achieved his Bachelor's Degree in Biochemistry, Molecular Biology, and Biophysics from the University of California, San Diego. He completed his medical school training at Flinders University, School of Medicine in South Australia, followed by medical residency training in Pittsburgh, PA. With over 20 years of experience in the medical field, Dr. Abraham specializes in Primary Care Medicine, with a focus on Hospital & Critical Care Medicine. He is a firm believer in utilizing advanced nutrition, peptides, and hormones to explore the limits of human potential. Throughout his career, Dr. Abraham has provided care to various high-level athletes, including mixed martial artists, professional boxers, Olympic athletes, nationally ranked bodybuilders, and fitness competitors.
Sports and Work Physicals

Health Maintenance

Depression

Allergies

Asthma

Cough

Anxiety

Cancer Screening

Arthritis

Diabetes Management

Diarrhea & High Blood Pressure
I am shocked reading a couple of the poor reviews. This has never been the case when I am in the office and have been seen and cared for by Fakhouri. He has taken more time and did more testing and helped me through some pretty difficult issues more than the doctors did at the Mayo clinic!!! The staff is always been friendly polite and the nurses get back with me very quickly when I leave a message. My husband and I were referred to him by a handful of others that feel the same way I do.
Nevada Family Care and Wellness Center has truly been a blessing to our family. Dr. Fakhouri has compassion and genuine concern of your well being. I've never met a doctor before that had that compassion! His office staff is elite! Friendly and remembers your name. Dr Julio is also a great addition to thier team. I've called and gotten appointments same day instead of going to quick care and he is thorough.
This is the absolute best Doctor I have ever been to. He's extremely thorough and knowledgeable. It's a blessing to have him as a Doctor and I'm very grateful. Staff is great and always there when you need them.
Accepts most major Health Plans
Mon-Fri: 7:30am - 4:30pm
Sat & Sun: Closed
Nearby Primary Care Physicians in Henderson: