Evan C. Allen, MD - Allen Wellness & Medical Center
Evan C. Allen, MD - Allen Wellness & Medical Center is one of the Three Best Rated® Primary Care Physicians in Henderson, NV.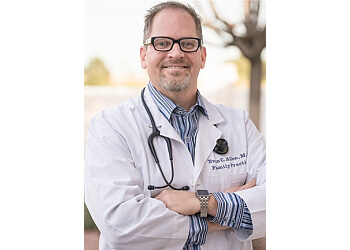 Dr. Evan Allen, a highly esteemed family physician in Henderson, has earned a well-deserved reputation for his exceptional medical expertise. He was awarded a scholarship by the United States Air Force (USAF) to pursue his Doctor of Medicine degree at Loma Linda University Medical School in Loma Linda, California. Following that, he successfully completed his residency in family medicine at Travis Air Force Base, situated near Fairfield, California. Dr. Allen recognized that he could deliver the best possible care to his patients as an independent practitioner. Hence, in 2007, he established the Allen Wellness Center. He prioritizes patient-centered care and, whenever feasible, personally admits his own patients to the hospital. Dr. Allen is fluent in both English and Spanish and possesses a working knowledge of Turkish and German.
Preventive Medicine

Concierge Medicine

Chronic Disease Management

Cold

Cough

Flu

Diarrhea

Weight Gain & Strep Throat
Dr. Evan Allen is smart. He keeps current on medical issues and medicines. He listens well, thinks deeply, is clear in his questions and his advice. He coordinates well with other doctors. His staff is supportive and consciousness. His office atmosphere is calm. If you are tired of the chaos of other practices, are ready to put in the work to improve your health, this is someone you should see. For faster service, use his website to request appointments or communicate with his staff.
Mon,Tue & Thu: 8am - 3pm
Wed: 8am - 12pm
Fri-Sat: Closed
Nearby Primary Care Physicians in Henderson: