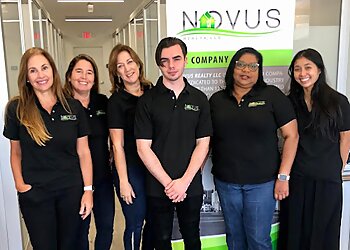 Novus Realty LLC Property Management company is a trusted property management company that optimizes your property and maximizes your profits. The company comprises highly qualified and certified experts to provide their clients with the utmost customer service experience to make proper decisions for the future. Novus Realty LLC is unparalleled to its competition by placing their client's needs and interests at the forefront of their business. The company offers residential and commercial property management services for homeowner associations, co-ops, condominiums, timeshares, and mobile home associations. Victor Taurizano is the broker and owner of Novus Property Management LLC. They have a team of qualified and certified professionals to give the best customer service. The company offers a tailored service to each client. Novus Property Management LLC has offices in Miami, Pembroke Pines, Doral, Weston, and Miramar.

UNIQUE FACTS:
• Small, Boutique, Customer Service
• Residential and Commercial Property Management Services
• Timeshares, and Mobile Home Associations
• Modern Tools and Technologies
• Tailored Service Experience.
Specialty:
Rent Collection, Maintenance, and Repairs, Property Listing, Renting, Investing, and Property Management, Home Inspection, Contract Documents Preparation and Process, Rental Homes, Finding Tenants, Advertising & Tenant Screening
Contact:
Working Hours:
Mon-Fri: 9am - 5pm
Sat & Sun: Closed
License CQ1038316 | CAB4960
TBR® Inspection Report: