Hildebrando Salinas, MD
Hildebrando Salinas, MD is one of the Three Best Rated® Psychiatrists in McAllen, TX.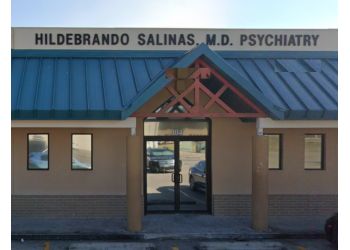 Dr. Hildebrando Salinas is a renowned and highly skilled Psychiatrist practicing in McAllen, Texas. He obtained his medical degree from the prestigious Universidad De Monterrey, Faculty Of Medicine, in 1994. Following that, he completed his residency at the esteemed University Tx Med Branch Hosps, Hospital. With more than 27 years of extensive experience in the field of psychiatry, Dr. Hildebrando specializes in treating various conditions including Neurodevelopmental, Psychotic, and General Mental Health disorders. He conducts thorough psychiatric diagnosis and evaluation procedures to ensure accurate assessments and personalized treatment plans. Dr. Hildebrando Salinas is known for his compassionate and respectful approach towards all patients. He actively listens to their concerns and provides thoughtful suggestions that encourage them to reflect on their life choices.
Eating Problems

Depression

Schizophrenia

Insomnia

Bipolar

Manic Depressive and Sleep Disorders

Attention Deficit Issues & Family Conflicts
Very understanding person, will work with you to help you get better. Such a nice person, and i wholeheartedly believe he is a great person and an excellent professional. I wouldnt choose anyone else.
I love this Doctor and the staff. They are really good at what they do and usually make sure things run along smoothly and quickly.
Excellent doctor, ease as he is. They seem as if they are simply there for a paycheck. We keep coming back because of the Doctor. Highly Recommended.
National (BlueCard) PPO, Aetna, CareFirst Blue Cross Blue Shield, Cigna, Humana, Anthem, Ambetter, Blue Cross Blue Shield & Blue Cross Blue Shield of Texas
Mon-Fri: 8am - 4pm
Sat & Sun: Closed
Nearby Psychiatrists in McAllen: