Melville Thomas Architects, Inc.
Melville Thomas Architects, Inc. Melville Thomas Architects, Inc. is one of the Three Best Rated® Residential Architects in Baltimore, MD.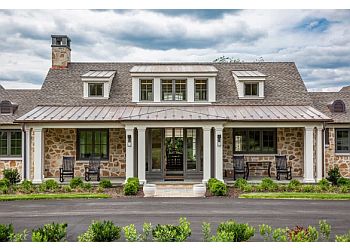 is a distinguished architecture and planning firm specializing in architectural design and facility management consulting. Laura, the president and founder of Melville Thomas Architects, brings over four decades of architectural experience. As a husband and wife team of skilled architects, they possess the expertise to deliver residential projects that cater to clients with refined tastes. Their approach revolves around the seamless integration of design and implementation, resulting in completed projects that authentically reflect the clients they serve, the collaborations they foster, and the contractors who bring their vision to life. The firm has experience in various sectors, including academic buildings, office fit-outs for educational and corporate settings, classrooms and auditoriums, teaching labs, and historical renovations. Melville Thomas Architects prides itself on developing and adhering to schedules, ensuring timely project completion, and holding their consultants to the same high standards.
Residential

Master Planning

Historic Buildings

3 D Home and Sustainable Design

Schematic

Remodeling

Home Restoration

Institution Projects

Facility Management Consulting

New Homes

Construction Documentation

Feasibility Study

Interior Architecture

Renovations & Programming
Excellent experience with Laura. She worked our small kitchen/breakfast room space into an open space with two eating spaces, a mudroom, and a beautiful layout. she also came up with an idea to open up a wall to our living room that improved the flow of our house immensely. Laura was a please to work with on our project. We would do again and again.
Laura and her team were extremely easy to work with. She listened to our needs and translated our vision into reality. Her attention to detail was excellent and everything was delivered on time, as promised. We are extremely happy with her work and hope to work with her again.
I have had the pleasure of working with Laura Thomas on a number of projects. She brings creative ideas and the highest professionalism to all of her interactions, both behind the scenes and with clients. And on top of that, she is a delightful person!
Mon-Fri: 8:30am - 5:30pm
Sat & Sun: Closed
Nearby Residential Architects in Baltimore: