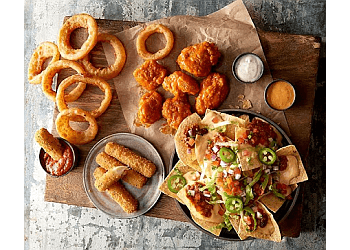 Buffalo Wild Wings, a well-established chain, specializes in serving up delectable wings, tenders, and burgers alongside a diverse range of sauces, catering to both sweet and fiery preferences. Renowned for their award-winning Buffalo, New York-style wings, they offer an impressive selection of 26 sauces and seasonings to tantalize taste buds. At Buffalo Wild Wings, they prioritize fostering a winning culture and organization, where their team members thrive in the energetic atmosphere reminiscent of game time. Working at Buffalo Wild Wings provides valuable experiences that last a lifetime. To cater to customers' convenience, they offer a variety of amenities, including Order Ahead, Pickup, Curbside Pickup, Delivery, and in-store dining options. With over 1,200 locations spread across ten countries, Buffalo Wild Wings is the ultimate destination for anyone craving delicious wings, seeking a friendly gathering spot with friends, and looking to enjoy watching games. Moreover, they provide discounted gift cards for corporate programs, making Buffalo Wild Wings a versatile choice for various occasions and a perfect option for treating employees or clients to a flavorful experience.
Specialty:
MENU: Traditional and Boneless Wings, Traditional and Boneless Combo, Cauliflower Wings, Blazin' Challenge® at Home, Tenders: Hand-Breaded and Naked Tenders, Bottled Flavors: Asian Zing®, Buffalo Seasoning, Caribbean Jerk, Chipotle Bbq Seasoning, Desert Heat® Seasoning, Honey Bbq, Hot, Jammin Jalapeno, Orange Chicken Bottle, Nashville Hot Bottle, Lemon Pepper and Lemon Pepper Seasoning Bottle, Mango Habanero™, Medium Bottle, Mild Bottle, Original Buffalo, Parmesan Garlic Bottle, Salt & Vinegar Seasoning Bottle
$Price:
Bundles:
6 Boneless Wings + Fries $8.99
6 Traditional Wings + Fries $9.99
10 Boneless Wings + Fries $11.49
10 Traditional Wings + Fries $15.49
20 Boneless Wings + Fries $26.49
20 Traditional Wings + Fries $28.49
Wings:
Traditional Wings $14.49
Boneless Wings $12.49
Traditional & Boneless Combo $22.49

Cauliflower Wings $10.99
Tenders:
Hand-Breaded Tenders $12.49
Naked Tenders® $12.49
Sandwiches
Saucy Chicken Sandwich $9.99
Appetizers:
Mozzarella Sticks $8.49
Fried Pickles $8.49
Everything Pretzel Knots $8.49
House Sampler $16.29
Beer-Battered Onion Rings $6.49
Dirty Dubs Tots $12.79
Chips & House-Made Guacamole $7.99
Chips & Dip Trio $10.99
Ultimate Nachos $9.99
Cheddar Cheese Curds $6.49
Hatch Queso $7.99
Potato Wedges $4.49
French Fries $4.49
Buffalo Chicken Tots $11.99
Tots $4.69
Asian Zing® Cauliflower Wings $1

Discount:
Grab the crew & come through for BOGO 50% off traditional wings.
Contact:
Working Hours:
Sun-Wed:11am - 11pm
Thu-Sat: 11am - 12am
TBR® Inspection Report: