Salt & Light Tattoo LLC
Salt & Light Tattoo, located in Chandler, Arizona, stands as one of the premier tattoo shops in the area. Salt & Light Tattoo LLC is one of the Three Best Rated® Tattoo Shops in Chandler, AZ.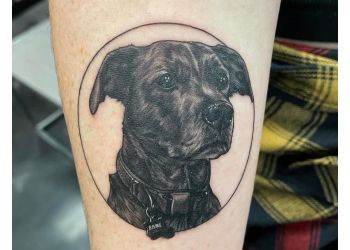 The studio is owned by Matt Geiogamah and his wife Natilie. Comprising a team of knowledgeable and experienced tattoo artists, the studio is fully equipped to assist you with your next tattoo or piercing. Salt & Light Tattoo offers high-end custom tattoos, body piercings, art prints, original artwork, body jewelry, and clothing, ensuring a comprehensive range of services. Whether you seek a creative design or an exclusive tattooing experience, Salt & Light Tattoo is the ideal destination. The studio is dedicated to providing exceptional service to its customers, ensuring loyalty and satisfaction at an affordable price. Their goal is to offer the best possible service while making all people feel loved and welcomed in their family-friendly environment. Additionally, their piercers are always delighted to offer free piercing services for brand-new jewelry following any purchases. Salt & Light Tattoo welcomes walk-ins and also offers gift certificates for its valued customers. In their studio, they strictly follow the rules, which they do not tattoo anyone under 18 years of age.
Large Black and Grey

Flower

Color Line

Skull

Bling

Cover-Up

Rework

Black Steel

Watercolor

Haida

Full and Half Sleeve

Fineline

Religious

Heart

Charcoal

Oil

Animal & Lettering Tattoos
I got a longish (7 hours) tattoo with Cris last month. Couldn't be more pleased with the tattoo shop and Cris himself. We met before to go over what I wanted and the final result was way better than I even imagined! The scheduling was easy and the desk staff very responsive. Cris was a really nice guy and easy to be around for 7 hours straight. It had been 17 years since my last tattoo so I met with 3 or 4 different artists from different shops before going with Cris at Salt and Light and I'm just so thrilled with how it all turned out. Prices are super reasonable compared to other places in the valley, too.
The best tattoo shop I've ever been to. The staff is so amazing. Every artist there is so kind and helpful. They are more than willing to work with you and continue to create amazing art pieces. Their new shop is super clean and very beautifully put together. I'd reccomend Salt & Light Tattoo 10 times out of 10.
Was referred to Jay Rizzo and could not be happier. Jay was awesome to work with and did an AMAZING job on my tattoo. Gave him the picture of what I wanted but didn't know how I wanted the words and he decided to circle the picture. It turned out better than I ever expected. Will defiantly be coming back for more!
Tattooing Starts from $80
Piercing Starts from $50
Mon-Sat: 11am - 8pm
Sun: Closed
Nearby Tattoo Shops in Chandler: