Travis W. Watkins - TRAVIS W. WATKINS TAX RESOLUTION & ACCOUNTING FIRM
Travis W. Travis W. Watkins - TRAVIS W. WATKINS TAX RESOLUTION & ACCOUNTING FIRM is one of the Three Best Rated® Tax Attorney in Tulsa, OK.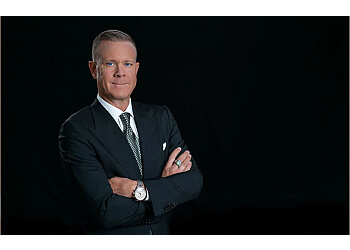 Watkins is an experienced senior tax attorney and the founder of Travis Watkins Tax Resolution and Accounting Firm. What sets his firm apart is its exclusive focus on resolving IRS issues for a select clientele and ensuring long-term resolution through comprehensive accounting, bookkeeping, and resolution services. Travis has successfully represented numerous companies and individuals in front of the Internal Revenue Service and state tax agencies. His expertise extends to the United States Tax Court and the United States Supreme Court. Throughout the years, Travis W. Watkins Tax Resolution & Accounting Firm has assisted clients in saving significant amounts on their tax liabilities, amounting to tens of thousands of dollars or more. Their primary objective is to offer troubled taxpayers a tailored and actionable plan to address overdue tax filings and negotiate with the IRS. To initiate your case, contact them today for a free initial consultation.
Tax Law and Relief

State Tax Law

Hardship Status

Bankruptcy

Innocent Spouse Reliefs

Offers in Compromise

Employment Tax Attorney

Penalty Abatements

Tax Lien Release & Resources
I have been making payments to the IRS of $300 a month and getting nowhere. Received another letter that I owe more to the IRS. I am paying for life at this rate. I called Travis Watkins after hearing on the radio about the Fresh Start Program and wanted to hear what they had to say. The staff was so professional and knowledgable. I truly felt a weight had been lifted off my shoulder after hearing all of the options available to me. I know I can try to do this on my own, but who has the time? Plus, I know I would screw it up. I hired this firm and they are already trying to settle for just $100 for all my tax debt. They have gone above and beyond on their service and I highly recommend anyone meet with them if they owe the IRS.
I have heard about Travis Watkins for a long time now through the radio and TV. I owned a business and got behind on payroll and income taxes. I couldn't afford any help at the start, so I decided to try on my own. What a disaster. I tried 3 times for an offer to settle and got denied EVERY single time. I owe well over 2 million. The IRS had all of my financial information and I was getting nowhere. Only racking up more in debt. I knew it was the matter of time before they started automatically collecting. I called Travis Watkins and had a meeting with them to discuss my next plans. They informed me of the mistakes that I made and assured me there was hope. I figured that I had messed everything up and I had to sell my home, car, everything. They were so compassionate and understanding of my situation. I hired them on the spot and already started on my case. IT HAS ONLY BEEN 2 DAYS! They contacted the IRS immediately. I thought that I couldn't afford their fee, but I was shocked because they were very reasonable and understanding. My recommendation: Don't try this on your own. You have a better chance with professional help.
Travis Watkins and staff were wonderful. Travis was referred to me by a friend who went to law school with him and stated he was very fair in pricing and would work hard to help me. They worked with the IRS to get my garnishments stopped while I was in the process of proving I was not responsible for the back taxes owed, my ex-husband was. I was very impressed with the way this was handled so quickly. They were very diligent. Money well spent. I would recommend to anyone!! Stephanie
Mon-Fri: 8:30am - 5:30pm
Sat & Sun: Closed
Other Tax Attorney in Tulsa: