SnapBack Tax Services
SnapBack Tax Service is a rapidly growing tax firm based in San Antonio that serves diverse clients, including individuals and private companies. SnapBack Tax Services is one of the Three Best Rated® Tax Services in San Antonio, TX.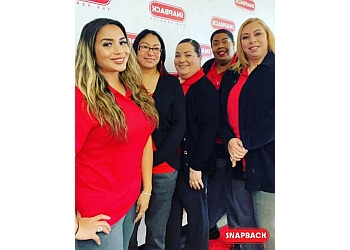 Led by Queen Terry, their team is dedicated to providing fast and efficient tax services while aiming to minimize your tax burden. They meticulously prepare and file your income tax records, ensuring you receive the maximum refund possible. SnapBack Tax Service has extensive experience assisting numerous small, medium, and large businesses with their tax preparation needs on an annual basis. They handle the organization of your documents, meticulously prepare and file your tax return, and work diligently to secure the full refund you deserve. Their team's expertise in income tax preparation, enthusiasm, and commitment to customer satisfaction sets them apart. Additionally, SnapBack Tax Services offers a lower advance amount with no charges. Apart from its San Antonio location, SnapBack Tax Service has another branch in San Antonio, Texas. To have an excellent tax service experience, contacting them and scheduling an appointment is recommended.
Personal and Business Tax Preparation

Credit Repair

Income and ITIN Tax Preparation

Personal

Business or Previous Years

Tax Consultation

Planning

and Returns

Authorized E-File Provider

Accounting

Bookkeeping & Payroll
Ms. Stephanie I'm appalled, the level of experience and expertise that you have brought to the table. She helped me have a clear understanding in what we needed to bring & so forthcoming of what we were getting back and explained step by step what she was doing and what's to come. I appreciate your patience with me! Stephanie knows what she is doing. Clear and calm tone while filing with a smile. She is the best! Go in and request Stephanie, she is the best at what she does! Im glad I came in.
SnapBack has been one of the most affordable & efficient Tax Services I've gone with thus far. I personally had Stephanie working on my returns & she is AMAZING, very personable & is going to make sure you get the maximum refund available to you. Ill definitely be back next year.
Maria was outstanding! I loved working with her. She's extremely knowledgeable and easygoing. It was as if I was chatting with a great friend, honestly. I'd highly recommend… and I got a t-shirt!! So pleased (: Thank you so much, again. A way better experience doing taxes at Snapback than my previous years.
Discount
Get $50 OFF when you file your taxes
Mon-Fri: 9am - 9pm
Sat: 10am - 6pm
Sun: 12pm - 5pm
Nearby Tax Services in San Antonio: