Underhill Animal Hospital
Underhill Animal Hospital is a renowned veterinary clinic that delivers exceptional veterinary treatment to pets. Underhill Animal Hospital is one of the Three Best Rated® Veterinary Clinics in Orlando, FL.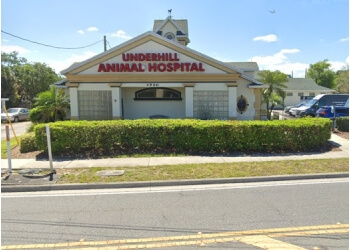 Their clinic offers a tranquil and family-friendly environment, ensuring that your pet feels at ease while waiting to see the veterinarian. With their extensive experience in the field, you can trust that your furry companion will receive top-quality care. The clinic takes pride in being a versatile private practice, offering a range of treatment plans tailored to your pet's needs while remaining mindful of your budget. They specialize in addressing severe illnesses in pets, providing the necessary expertise and attention required to restore their health. Underhill Animal Hospital stays at the forefront of veterinary medicine by utilizing cutting-edge technology to assess and diagnose your pet's condition accurately. Their commitment to providing the best possible veterinary care services is unwavering. In addition to their medical expertise, the hospital also emphasizes regular pet wellness care, focusing on enhancing the overall health and well-being of your beloved companions. They offer a wealth of resources aimed at educating pet owners on how to provide optimal care for their pets, ensuring they lead happy and healthy lives.
Internal Medicine

Spa and Grooming

In-House Surgical and Holistic Care

Dentistry

Artificial Insemination

Vaccinations

Prevention Wellness

Pain Management

Laser Therapy

Boarding

Weight Control

Acupuncture

General Health

Anesthesia

Dermatology

Nutrition and Diet & Travel Exams
Always great service from a competent and compassionate staff. I've been using them for well over 20 years and appreciate the great care that is always provided. I've been driving over 30 miles for 15+ years because I have tried vets closer to my location a few times and have never been happy. I trust Underhill Animal 100% and will drive the extra mile(s) and spend the extra time. Thank you!
We love Underhill Animal Hospital! They are attentive, kind, accommodating, and helpful. As new dog owners, they helped us get started with making sure our puppy was well taken care of and loved. When we have had questions, someone has always gotten back to us in a timely manner and they are always so friendly. Sometimes we have trouble getting her to be seen right away when we call, but luckily nothing has been an emergency. I'd hope if it was we would be able to be seen more quickly. :) We also love Petopia, the doggy daycare, and so does our dog! They have been a saving grace to us and we are so grateful they are there for our dog to have other pups for her to play with while we are at work. They are kind, flexible, and very loving to all the dogs and we appreciate the daily picture and video posts on social media to see all the fun the dogs are having!
All good things! I have a dog that's not easy to deal with, but not mean, and I have not had success until now in finding a vet that will even take him in the north half of Florida. I drove 2 hours each way and will continue to do so. They prepared ahead of time for our arrival. They had notes at the front desk for us. Check in was easy. Jessie and Dr Wolf were amazing.
Discount
$10 Off the first visit
Mon-Fri: 7:30am - 6pm
Sat: 7:30am - 3pm
Sun: Closed
Nearby Veterinary Clinics in Orlando: