WebJIVE SEO & Web Design
WebJIVE is a leading provider of comprehensive website solutions that encompass hosting, custom web application development, and local SEO services. WebJIVE SEO & Web Design is one of the Three Best Rated® Web Designers in Little Rock, AR.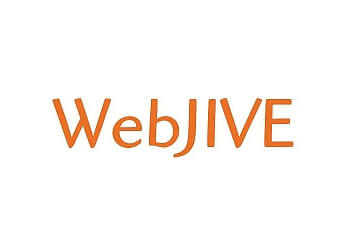 Their team of experts possesses in-depth knowledge of the latest trends in interactive technologies, ensuring that your business stands out with a distinctive and tailor-made web presence. With a collaborative and systematic approach, WebJIVE takes the time to understand your objectives and unique value propositions. From the initial ideation phase to the final deployment, they guide your project every step of the way. Their goal is to create a website that truly represents your business and helps you achieve your goals. When you engage with WebJIVE, you can expect transparent communication throughout the entire process. They prioritize keeping you informed and involved, ensuring that your vision is realized in the final product. Additionally, WebJIVE places a strong emphasis on robust security measures and strict privacy policies, ensuring that your data and reputation are safeguarded. Whether you need a new website developed from scratch, custom web applications, or local SEO services to improve your online visibility, WebJIVE has the expertise to deliver results. Their proficiency in web design and development can propel your business to new heights, attracting more customers and increasing your online presence. Don't hesitate to reach out to WebJIVE today to explore how their comprehensive website solutions can benefit your business. Experience their commitment to excellence and let them help you unlock the full potential of your online presence.
Web Design

Local SEO

Web Hosting

Content Creation

Reputation Management & Digital Marketing



Bentonville

Fayetteville

Benton

Bryant

North Little Rock

Hot Springs

Greenbrier

Rogers

Little Rock

Conway

Springdale

Jonesboro & Fort Smith
Eric has been great to work with and very impressed with the work he has done so far on my new website and SEO campaign. He is very responsive and straight to the point. I actually met with several companies before his and never felt it was worth the investment. Eric showed me what he could do for me and had the results from other clients to back it up. No big sales show, just results.
I would strongly recommend this company. I deal with a very unique and complicated internet business. This is the first Arkansas company that I was able to have a conversation with. I would strongly recommend reaching out to this company. They clearly know what they are doing.
Eric and the folks over at WebJive are so helpful. They provide great customer service and have been patient with our team as we launch our company's website. WebJive is the place to go if you are in need of web design, SEO and set up.
Websites Starts from $3000 (With up To 5 Pages)
Mon-Fri: 9am - 6pm
Sat & Sun: Closed
Other Web Designers in Little Rock: