A Paradise Weddings
A Paradise Weddings is a specialist in hosting outdoor wedding ceremonies, offering a wide variety of options including arches, flowers, aisle ways, music, and catering. A Paradise Weddings is one of the Three Best Rated® Wedding Planners in Port St Lucie, FL.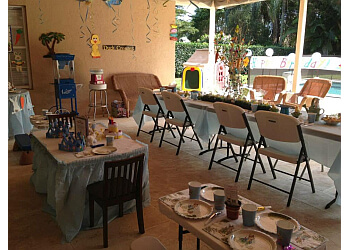 Their experienced wedding planners work closely with brides to bring their dream weddings to life. They provide a tailored wedding service that is customized to meet your lifestyle needs and ensure a memorable experience. A Paradise Weddings places a strong emphasis on meeting the specific needs of each client and their quick-thinking professionals can handle any situation with professionalism. They are committed to delivering memorable experiences for all visitors and have a track record of providing fantastic event solutions for receptions, ceremonies, and rehearsals. With their all-encompassing planning services, you can rest assured that you can fully enjoy your special day without any worries.
Receptions

Ceremonies

Engagement

Proposals

Beach Weddings

Arches

Birthday Celebration

Centerpieces

Destination

Holiday Parties

Special Events

Flowers

Aisle Ways

Music

Caterers

Photographers & Venues
After I got engaged I thought I could do everything myself and plan my own wedding and I thought it would be less expensive. But, I had so much anxiety that things wouldnt go right and my family was reluctant to help because they were worried if things went wrong I would be upset. so at the last minute I was searching for someone to help me. I walked into A Beautiful Day Florist and met Linda and Linda. One a florist the other a wedding planner. They had so much stuff to look at and things to choose from and ideas for my wedding that I wished I would have gone to them first before spending so much money on my own decorations and centerpieces. After asking them to give me a quote I realized it would have been cheaper to hire them because they already had everything and I had to go out and find it myself. Well, we hired them to help us for Day of Coordination and I am so glad we did. The power went out at our venue and Linda handled everything and when the cake started to slip off of the table because of the strawberry filling they got on the phone immediately and made the baker come back to fix it. I will always recommend help instead of trying to use my mother or family to help. It was well worth the money for peace of mind on my wedding day.
With the help of A Paradise Wedding we were married on a catamaran boat in the Florida Keys in July it was beautiful after the ceremony they had food champagne toast music dancing and a photographer to take our photos of me and my family it was perfect!
Linda is such an awesome wedding and event planner. At my event she went above and beyond for me. She always answered my numerous calls and text messages through out the day. She was there for me every step of the way. Linda is definitely the best planner in our area!
Ceremonies starts from $299
Receptions starts from $650
Mon-Sat: 9am - 8pm
Sun: 9am - 6pm
Nearby Wedding Planners in Port St Lucie: