H&S Accounting & Tax Services
H&S Accounting & Tax Services is a highly regarded accounting firm in Hollywood, Florida, that has been providing excellent accounting and tax services to individuals and small to medium-sized businesses throughout South Florida for many years. H&S Accounting & Tax Services is one of the Three Best Rated® Accounting Firms in Hollywood, FL.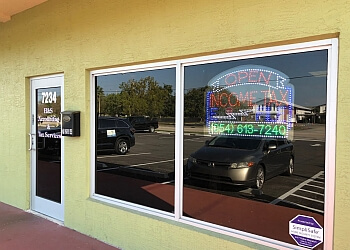 Their team consists of dedicated professional small business accountants and CPAs with years of experience. With a team of dedicated and experienced small business accountants and CPAs, they are one of the most successful accounting firms in the region. Their innovative and cutting-edge solutions have earned them an outstanding reputation in the industry. They pride themselves on delivering prompt and courteous attention to every client and strive to understand each client's business and unique circumstances. Their pricing is transparent and affordable. Contact them today to schedule a complimentary consultation and see how they can help you.
Bookkeeping Services

Business Entity Selection

IRS Representation

Payroll Services

Quickbooks Consulting

Reviews and Compilations

Sales Tax

Tax Resolution

Tax Planning

Tax Preparation

General Journal Maintenance

Subsidiary Ledger Maintenance

Bank Statement Reconciliation and Receivables

Payables Tracking & Analysis
I've conducted business with many different CPA's throughout my career, but none possessed the level of professionalism and knowledge that Mr. Pierre-Paul possesses. I made an appointment and was immediately greeted at the door. All of my tax-related questions were answered on the spot. This is a family based business, so attention to detail and devotion to the customer is definitely a priority of Mr. Pierre-Paul. I was not given the runaround and will continue to conduct business with H&S Accounting. Highly recommended.
I have been using the services of this firm since I am in the US and even I do not live in Florida I am still using them. Herns is a very professional, honest and knowledgeable CPA. He cares a lot about his clients, someone that you can trust, always give you good advice, have the answers needed to ensure that all your questions are answered and concerns are handled in a professional maner. H&S Accounting & Tax Services in Hollywood FL is the best firm to do business with and I highly recommend this office to every one in the United States not only in Florida, trust me, you will not be disappointed.
I truly recommend to anyone to please use H&S Accounting & Tax Services. My family have been with Herns Pierre-Paul, CPA for many years now. He's professional, very smart at his business and a man you can trust to handle and resolve all of your financial issues. As long as he's around... I will not go to anyone else to handle my taxes and that's my honest recommendation to anyone.
Mon-Fri: 9am - 5:30pm
Sat: 10am - 3pm
Sun: Closed
Other Accounting Firms in Hollywood: