Orlando Recovery Center Drug and Alcohol Rehab
Orlando Recovery Center is a well-known addiction treatment center in Orlando. Orlando Recovery Center Drug and Alcohol Rehab is one of the Three Best Rated® Addiction Treatment Centers in Orlando, FL.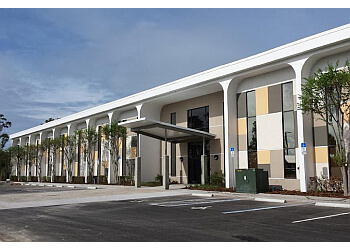 Their holistic approach addresses not just the physical symptoms of addiction but also the emotional, psychological, and spiritual aspects. They believe in treating the whole person, not just the addiction. Their team comprises compassionate, experienced, and board-certified professionals who are committed to ensuring each patient receives the personalized attention they deserve. Their facility provides a tranquil environment where patients can focus entirely on their recovery, away from the triggers and stresses of everyday life. Moreover, you'll become a part of a vibrant community of alumni who understand your journey and will stand by you every step of the way. Their state-of-the-art center combines the latest in medical and therapeutic techniques with comfortable amenities that promote healing and recovery. They offer robust aftercare programs to ensure ongoing support. Understanding that every individual is unique, they offer a range of programs including detox, residential, outpatient, and aftercare, tailored to the needs of each patient. At Orlando Recovery Center, they believe in the strength and potential of each individual. they are not just helping you overcome addiction; they are guiding you back to rediscover the joys, passions, and dreams that make life worth living. If you or someone you love is struggling, don't face it alone. Let them be your partner on this transformative journey. Let the Orlando Recovery Center be the first step towards a brighter, addiction-free future. They do accept all major insurance companies and providers.
Addiction: Adderall

Amphetamine

Ambien

Klonopin

Lortab

Marijuana

Morphine

Tramadol

Vicodin

Xanax Alcohol

Opioid

Benzodiazepine and Heroin

Fentanyl

Outpatient

Medical Detox

Inpatient

Hydrocodone Abuse

Opioid and Opiates

Co-Occurring Mental Health

Substance Abuse Treatment

Drug Abuse Treatment

Opiate Addiction Treatment

Alcohol Addiction Treatment

Medication-Assisted Treatment (MAT)

Aftercare & Teletherapy
Needed to hit the reset button on my life and was stuck in a rut of depression and addiction and Palmer Lake Recovery fit the bill. I chose this particular rehab after extension research on line and I have to say it was the best thing I've done for myself in 30 years !!!! The staff are all super friendly, super well organized, and super well educated. I was genuinely impressed with the quality of care, the food was yummy, and the education I got about how the brain works and how it affects my addictions was top notch. I thought I had it all figured out but realized pretty quickly that I didn't have a clue, lol !!! Thank you to all the staff and the community of people I met in there, I will be forever grateful, y'all changed my life.
ORC was a great experience!! I'm definitely not the same person that walked in there!!! I can't thank everyone enough. My whole attitude about life is different. The therapist were great!! They touched on a variety of areas of growth. I can't extend my appreciation enough! I want to thank everyone deeply!! I also want to say the food was Great!!????Thank you Jodie for your support.
Overall ORC did an exceptional job on helping me become the best version of myself as possible. From the top, to the bottom, all the staff took great care of me. I spent my 49th birthday ???? there on October 6th and it was the first time I was sober on my birthday in 30 years. Everyone cheered for my special day and my sobriety. Today I'm 62 days sober and I will continue to strive to be GREAT and stay sober. My NAME IS JIMMIE ROWRY AND I MATTER!!!! I would recommend ORC to anyone battling ADDICTION, it only works if you work it.
Blue Cross Blue Shield, Aetna, Cigna, Veterans Insurance, United, and many others
Nearby Addiction Treatment Centers in Orlando: