Sunrise Detox Orlando LLC
Sunrise Detox Orlando LLC is a licensed drug and alcohol medical detoxification facility in Orlando. Sunrise Detox Orlando LLC is one of the Three Best Rated® Addiction Treatment Centers in Orlando, FL.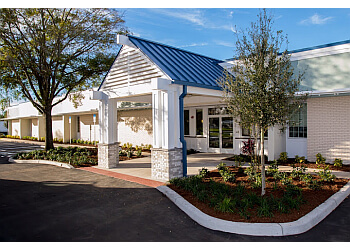 The center offers a safe, comfortable, and professional medical detox. They use effective medical care for lessening withdrawal symptoms and watch over you around the clock. Their well-trained nursing staff will distribute approved medications at established times. Their medical staff monitors your physical and mental state 24 hours a day and addresses withdrawal symptoms to help you detox as comfortably and safely as possible. Sunrise Detox Orlando believes individualized care is essential for recovering from alcohol use disorder. They carefully manage withdrawal using proven protocols and approved medications to ensure patient comfort. Their accommodations are the finest available, with attention to professionalism and customer service. They have 24hrs nursing and luxury accommodations (including gourmet meals) to help guests stay motivated to complete treatment. They also serve in different Locations in Georgia and Florida like Atlanta, Duluth, Fort Lauderdale, and Palm Beach.
Alcohol

Inpatient

Group and Individual Therapy &Drug Detox
When I came into detox, I was completely broken. The only thing I knew how to do was use. I came in here completely depressed, searching for something to fight. From day one, the kindness that the nurses, techs and counselors showed me helped me get out of my self and get out of my depression. This place is completely amazing. Every staff member has touched my heart. I can smile again. I have gained self-love and self respect for myself, and thats something that I thought was lost forever. Beth, the Service Director has such an amazing team. I have never been to a facility before where every staff member I could say that about. I owe you all my life. thank you for helping me realize there's better out there and something worth living for.
I wouldn't change my experience at sunrise and evolve at all. It was exactly what I need to get back on healthy path. Everything from the staff to the facilities was incredible! I will genuinely miss the people I met there and find solace in knowing that they will help so many other people like me. My councilors helped me move past a lot of stuff I was dealing with and gave me the tools I need to begin a new journey. Thank you a million times !
My experience with Sunrise was a pleasant experience. It is a top notch facility. From the personal attention of the staff and the cleanliness of the facility. The counselors work very hard to advocate for you. The accomodations are modern and comfortable. The kitchen staff always makes sure you have plenty of good food to eat. I would recommend Sunrise if your looking for some help.
Most Commercial Insurance accepted
Nearby Addiction Treatment Centers in Orlando: