Rapids Waterpark
Rapids Waterpark is a renowned Riviera Beach water park near I-95. Rapids Waterpark is one of the Three Best Rated® Amusement Parks in Port St Lucie, FL.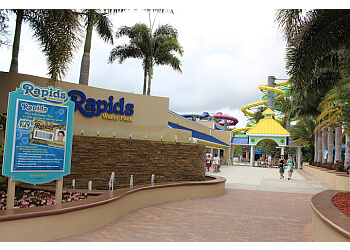 The park is spread over 35 acres of beautiful land. Their park includes 42 slides and attractions, including a wave pool, dual seven-story speed slides, and a quarter-mile lazy river. The park provides rides with thriller, and the rides are also available individually for families, kids, and with FlowRider rental. The park host for birthday parties and special offers for group packages. The things to do in Rapids water park are rides, cabanas, dining, and events. They provide all of the setup and cleanup of the birthday party space and all paper goods. All-day lockers are available for rent for an additional charge with various sizes. Rapids Waterpark's catered choice is available for groups of 50 or more. Rapids Waterpark is located just 43.2 miles from the city of Port St Lucie.
Baby Blue

Big Thunder

Black Thunders

Brain Drain

Flow Rider

Pirates Plunge

Rapids Racer

Big Red

Body Blasters

Raging Rapids

Riptide Raftin

Tubin Tornadoes

Alligator Alley

Barefootin Bay

Big Surf

Criss Crossing

Splash Hill

Splish Splash Lagoon

Tobago Trading Post & High Tide Tiki Bar
What a fun place to visit. If only you could stand up surf on their Flow Rider. Lots of slides and stuff to do. It's reasonably priced and has specials which allow you to come back different days. Parking is pretty close to the entrance and more reasonable than other theme parks.
Super fun. Great place to spend time with family and friends, and to bring children of course. They have various places to purchase food and souvenirs. I buy their funnel cake every time I go.
Had an amazing time with my son the wait was sometimes long but its okay we planned to be there the whole day.
Season Passes - $109.95
Weekday Rate - $49.99
Weekend & Holidays - $59.99
Regular Admission:
Individual rate Monday–Friday (No Holidays) - $54.99+tax
Individual rate Saturday–Sunday (And Holidays) - $59.99+tax
Sunset Special Admission:
Monday – Friday - $27.50+tax
Saturday – Sunday - $30+tax

Mon-Fri: 10am–5pm
Sat & Sun: 10am–6pm
Nearby Amusement Parks in Port St Lucie: