Sailfish Splash Waterpark
Sailfish Splash Waterpark is a fun aquatic center that features competitive swimmers with towering slides and a lazy river for recreational use. Sailfish Splash Waterpark is one of the Three Best Rated® Amusement Parks in Port St Lucie, FL.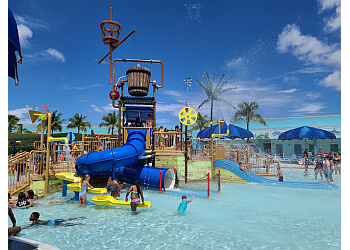 The park has attractions with exciting for the whole family and also teaches swimming lessons for all ages. They provide a place for birthday parties, group events, and summer camps. They have rental areas like cabanas, funbrellas, and shaded shells. Their waterpark is affordable for families looking to have a great time with buddies and families. Free wifi and parking were available in the park. They also hire with 100% certification and paid training. This state-of-the-art complex is conveniently located in Stuart, Florida. Their park is located just 10 miles from the downtown of Port St Lucie.
1000-Foot Lazy River

Two Four-Story Tall Water Slides

Zero Depth Entry

7

326-Square Foot Interactive Splash Playground with Jets

Sprays

Slides & 317 Gallon "Dump Bucket"

Wiggly Waters Cargo Net Walk-across

Shaded Picnic Area

700 Lounge and Deck Chairs

Competitive Lap Pool Area & Private Cabanas Available for Rent
Loved it. My kids had so much fun. The park did their best to mange the shortage of inventory in the kitchen. Had to wait for a resupply truck at 2pm. Everything worked out for the best a d no one even noticed the issue. Great job on the employee's part to mange the situation. I will definitely go back.
We had a great time! My first time visiting and I will definitely come back soon! We also came in after 3pm so our rate was much cheaper! Overall we live it and definitely recommend especially during these hot summer days!
My 3 grandchildren had a blast. Ages 11, 5 & 3. Lifeguards were everywhere & very attentive to all the swimmers safety.
Day Passes:
Adult (13-54): $18.25
Senior (55+): $16.25
Infants (Under 1): FREE
Seasonal Passes:
Adult (Ages 13-54): $129
Child (Ages 1-12): $119
Senior (Ages 55+): $119
Infant (Under 1): FREE
Lapswim Annual Pass:
Adult (Ages 13-54): $169
Senior (Ages 55+): $149
Funfriday Price:
Fee for All Ages: $9.95
Pool Area Day Pass:
Adult (13-54): $5
Child (1-12): $4
Senior (55+): $4
Other Fees:
Standard Locker: $10
Small Cell Phone/Wallet Locker: $7
Key Tag Replacement: $5
Water Diaper: $8.50
Parking: FREE

Discount
Season Passholders Get 20% Off on Cabana, Funbrella, Shell Rentals
Nearby Amusement Parks in Port St Lucie: