Dr. Justin Foltz, DC - Pittsburgh Physical Medicine and Chiropractic
Dr. Justin Foltz, DC - Pittsburgh Physical Medicine and Chiropractic is one of the Three Best Rated® Chiropractors in Pittsburgh, PA.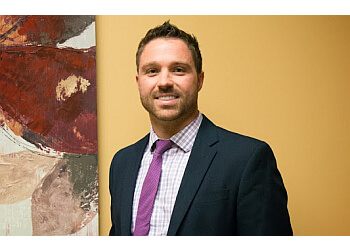 Dr. Justin Foltz is a highly respected and well-renowned chiropractor in the vibrant city of Pittsburgh. Having obtained his Doctor of Chiropractic degree from Palmer College of Chiropractic, he has garnered extensive knowledge and expertise in the field of natural and holistic therapies. As the proud owner of Pittsburgh Physical Medicine and Rehabilitation, Dr. Justin is dedicated to providing exceptional care to his patients. With a hands-on approach to healing, Dr. Justin focuses on empowering his patients to regain their health and functionality without relying on lengthy treatment plans or pharmaceutical interventions. He firmly believes in the body's innate ability to heal itself when provided with the proper support and guidance. Dr. Justin aims to alleviate patients' pain levels and enhance their overall well-being by employing a comprehensive two-week treatment plan. Dr. Justin's approach goes beyond symptom relief. He is passionate about educating his patients on the vital connection between diet, exercise, and their overall health.
Chiropractic Consultation and Adjustment

Neck

Head

Hip

Shoulder and Back Pain

Sciatica

Scoliosis

Herniated Disc

Plantar Fasciitis

Spinal Stenosis

Headaches

Morton's Neuroma Treatments Whole Body Vibration & Massage Therapy
Love this place! I am a runner and work in construction, so lots of stress on the body at times. Dr Foltz and his team have been awesome at helping me recover from injuries, and also do a truly amazing job educating and helping prevent future injury. Everyone is super nice and scheduling is so easy!
The holistic practices that Dr. Foltz uses in his practice are unparalleled. I appreciate going in for an alignment, but also receiving the benefits of a physical therapy session. The entire staff along with their rotating students are always wonderful to work alongside and I always feel anew walking out of the office. Highly recommended if you are serious about finding the root cause of your pain and working on it beyond therapy sessions.
Dr Foltz adeptly diagnosed the source of my pinched nerve. He explained the treatment and demonstrated the exercises I was given. The table adjustment and therapeutic applications made me feel great!
Aetna, Blue Cross Blue Shield, HighMark, United Healthcare & UPMC Health Plan
Mon, Wed & Thu: 8am - 12pm|3pm - 7pm
Tue: 3pm - 7pm
Fri: 8am - 12pm
Sat & Sun: Closed
Other Chiropractors in Pittsburgh: