Dr. Maggie Hunsicker, DC - THRIVE CHIROPRACTIC
Dr. Maggie Hunsicker, DC - THRIVE CHIROPRACTIC is one of the Three Best Rated® Chiropractors in Topeka, KS.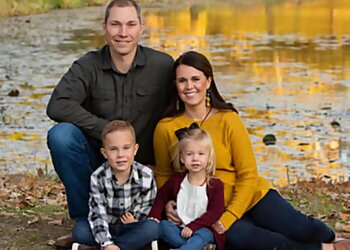 Dr. Maggie Hunsicker is one of the best Chiropractors in Topeka, KS. After completing her chiropractic degree at the esteemed Palmer College of Chiropractic in Davenport, IA, Dr. Maggie is dedicated to motivating, instructing, and empowering individuals to incorporate chiropractic care into their daily lives. She holds CACCP certification from the International Chiropractic Pediatric Association(ICPA) and is certified in the Webster Technique. Dr. Maggie Hunsicker practices at Thrive Chiropractic. Working at Thrive Chiropractic, Dr. Maggie Hunsicker endeavors to balance her patients' nervous systems to enable them to perform at their maximum potential. Her practice concentrates on the overall well-being of the whole family, addresses their concerns, and confidently helps them establish a foundation for future health. At Thrive Chiropractic, their goal is to improve and elevate the quality of life for present and upcoming generations by utilizing the benefits of chiropractic adjustments and promoting a wellness-oriented lifestyle.
Ankle

Shoulder

Neck

Knee

Low and Upper Back Pain

Pregnancy and Pediatric Chiropractic Care

Headaches

Rotator Cuff Tendonopathy

Migraines

Scoliosis & Sciatica
Dr Maggie has always provided great care during adjustments and offered knowledgable recommendations on supplements and wellness strategies for the whole family. The other Dr's she has brought on have offered the same type of support, and we are grateful for their continuity of care. They have helped with injuries and general wellness care. It's nice to walk in and feel safe and heard.
Truly a unique and wonderful experience. I've been to a good number of chiropractors over the years. Thrive is the best of them. They really look at the root causes and how to solve them to help create a better, healthier life. Thanks Dr. Maggie!
Thrive Chiropractic is a game changer for your health and wellness. The best place to go for any family. We've been seeing Dr.Maggie since 2014, we won't go anywhere else! She truly cares for everyone of her patients. Again, this place is truly the best!
Mon-Thu: 9am - 5pm
Fri-Sun: Closed
Nearby Chiropractors in Topeka: