Dr. Stephone Stephens, DC, CCSP, CSCS - TOPEKA SPORTS & FAMILY CHIROPRACTIC
Dr. Stephone Stephens, DC, CCSP, CSCS - TOPEKA SPORTS & FAMILY CHIROPRACTIC is one of the Three Best Rated® Chiropractors in Topeka, KS.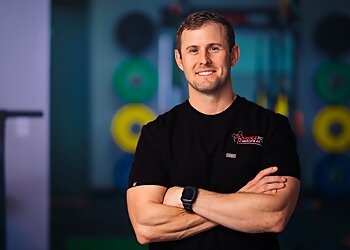 Dr. Stephone Stephens is an esteemed Chiropractor in Topeka, KS. He pursued his Doctor of Chiropractic degree from Cleveland Chiropractic College and is a certified chiropractic sports practitioner. With multiple certifications, he possesses a wealth of knowledge on the human body and how to assess and treat his patients effectively. Dr. Stephone's mission is clear: to help his patients achieve optimal health through a combination of chiropractic care, rehabilitation services, and nutritional advice. He is committed to providing preemptive chiropractic services that efficiently alleviate pain and improve the quality of life for his community. Dr. Stephone is passionate about educating his patients on injury prevention and promoting healthy lifestyles, focusing on relieving acute, subacute, and chronic pain while establishing a solid foundation for future injury prevention. Stephone Stephens practices at Topeka Sports & Family Chiropractic. Topeka Sports & Family Chiropractic is a practice that is centered around evidence-based and patient-focused care.
Neck

Leg

Back

Knee

Shoulder

Arm

Elbow

Wrist

Hand and Foot Pain

Headaches

Golfer's Elbows

Plantar Fasciitis

Running Injuries

Active Release Techniques

Functional Rehabilitation

Nutritional Counselling

Kinesio Taping

Myofascial Release & Dry Needling
I had the best experience at Topeka Sports & Family Chiropractic. I was having hip pain and suspected that my hip or back were misaligned. I was able to get an appointment within just a few days after I called & filled out my patient forms online (which I appreciated because it saved a lot of time in the office). I saw Dr. Stephens, he determined what was wrong very quickly, did a few adjustments, and even taught me some specific stretches to do at home to help prevent the problem in the future. Everything was quick, informative, and professional. I would highly recommend Topeka Sports & Family Chiropractic!
I recommend Topeka Sports & Family Chiropractic for adjustments and rehabilitation. The web site is easy to use. I called and made an appointment with Dr. Stephens. The staff is very pleasant and efficient. I was not kept waiting. Being new to Topeka this was my first visit. The doctor was easy to talk to. He did some tests and thought I was doing pretty good and would just need him as needed, which is fine because I knew I didn't need an intensive therapy program. He did recommend some exercises for my back which he sent to me in an email right away. I am definitely going back.
I have seen Dr Stephens several times over the past few years for back and neck pain. I have been very impressed with his professionalism and his knowledge. In each situation, he took care the the pain along with providing me with exercises and stretching to avoid having the issues in the future. Would definitely recommend Topeka Sports & Family Chiropractic if you are thinking of going to see a Chiropractor.
Mon & Wed: 8am - 5pm
Tue & Thu: 9am - 5:30pm
Fri: 8am - 12pm
Sat & Sun: Closed
Nearby Chiropractors in Topeka: