Dr. Zach Hesse, DC - TOPEKA CHIROPRACTIC AND WELLNESS CENTER
Dr. Zach Hesse, DC - TOPEKA CHIROPRACTIC AND WELLNESS CENTER is one of the Three Best Rated® Chiropractors in Topeka, KS.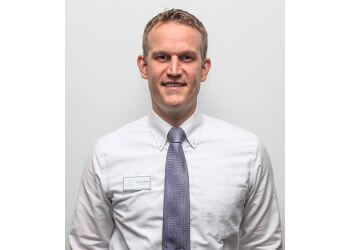 Dr. Zach Hesse is a renowned Chiropractor in Topeka, KS. He obtained his Doctor of Chiropractic degree from Cleveland Chiropractic College. Dr. Zach has extensive experience treating frequent headaches and various other chiropractic conditions. Dr. Zach is dedicated to providing guidance on spinal health and improving his clients' overall well-being through rehab, exercise, and healthy nutrition. Dr. Zach Hesse practices at Topeka Chiropractic and Wellness Center, where he utilizes advanced, evidence-based treatments to relieve pain, enhance wellness, and help patients achieve their lifestyle goals. Dr. Zach spends his evenings researching and staying up-to-date on the latest techniques in holistic care to provide the best and most individualized treatment plans for his patients. At Topeka Chiropractic and Wellness Center, their team is dedicated to utilizing state-of-the-art treatments that are backed by evidence to provide you with advanced care. Their goal is to relieve your pain, enhance your wellness, and help you achieve your lifestyle goals.
Back

Neck

Spine

Shoulder

Arm and Knee Pain

Chiropractic Adjustment

Intersegmental Traction

Muscle Therapy

Electrical Stimulation

Disc Decompression

Spine and Vertebral Discs

Sciatica & Joint Dysfunctions
Started having some pretty bad back and leg pain. At the recommendation of my boyfriend I went to Topeka Chiropractic and Wellness. My experience has been nothing short of amazing. The staff are so kind and Dr. Zach Hesse is a miracle worker. After the first few visits my back and leg pain have stopped. I continue to go every few weeks now to maintain being free from pain. Dr. Zach tells me every visit if I start having pain to just give them a call and they can get me in same day. Top notch care and service. I will recommend them to anyone in need of chiropractic care.
Life-changing experience! Drs. Zach and Parker do amazing work. Both are attentive, friendly, and professional. I highly recommend Topeka Chiropractic!
Super professional and very knowledgeable. Explained my issue better than my primary Dr..! I'll continue to visit..
Discount
New Patient Special: Receive Consultation, Comprehensive Chiropractic Examination, Neurological/Orthopedic/Muscle Testing and Report of Findings at $27
Mon: 9am - 12:30pm|
3pm - 6pm
Tue-Thu: 8am - 6pm
Fri: 7:30am - 6pm
Sat: 9am - 1pm
Sun: Closed
Nearby Chiropractors in Topeka: