Design Moe Kitchen & Bath
Design Moe Kitchen & Bath is a small, family-owned specialty design business in Escondido. Design Moe Kitchen & Bath is one of the Three Best Rated® Custom Cabinets in Escondido, CA.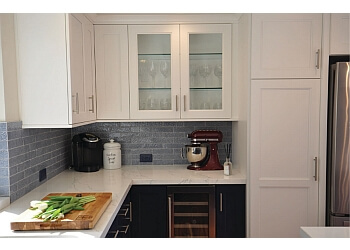 Their team of skilled professionals is committed to offering top-notch design ideas tailored to your vision. In addition to their residential services, Design Moe Kitchen & Bath caters to large commercial projects, supplying cabinets for condos, apartments, hotels, and medical facilities. They meticulously select contractors with proven track records to ensure they perfectly match your project requirements and preferences. As a provider of exclusive and hard-to-find items, Design Moe Kitchen & Bath offers an array of high-end tiles, hand-made glass, designer countertops, custom faucets, and specialty appliances. They also offer a range of decorative hardware and countertops to complement your space and elevate its aesthetic. With Design Moe Kitchen & Bath, you can expect exceptional professionalism, creativity, and attention to detail, turning your design dreams into reality with their personalized touch and unmatched expertise.
Custom Cabinetry

Design Glass

Stone

Greenfield

Siteline

Fieldstone and Bellmont

Ashigh-Endtile

Handmade

Designer Countertops

Faucets & Specialty Appliances
My husband and I recently hired Heather Moe for a kitchen and bath remodel, and we are so happy we did. She and her husband Dan came to our house several times to measure and re-measure. We went to the studio and Heather helped us pick out countertops, kitchen cabinets, and hardware. She also went with us to pick out the granite slab for the counters. She referred us to an amazing contractor, Noble Construction, who was top-notch. I would highly recommend Heather Moe to anyone wanting the best.
I recently had the pleasure of working with Heather from Design Moe Kitchen & Bath on a major redesign of my backyard including outdoor kitchen, cabana, pool and even planting recommendations. Being in San Diego we were going for the "outdoor living" concept She nailed it! Heather possesses an innate ability to capture the essence of a concept and translate it into stunning visual designs and her attention to detail is unparalleled. Her talent and design sensibility are absolutely exceptional. She is committed 100%+ and goes above and beyond to make sure every detail is handled. The end result speaks for itself -- it is beautiful!
When we bought our aging house in San Marcos 10 years ago there was a lot of work we wanted to do. First was a full kitchen remodel (removing walls and all), so we looked around for a pro to design and advise. I can't tell you how happy we are to have found Heather Moe. Aside from her great personality, Heather has a depth of knowledge and experience we could not find in others. She is studied in different styles, and understands that kitchens (and other rooms) are designed to look good, yes, but more importantly designed to be used. Our kitchen came out stunning. Since that time we have used Design Moe for our living room and a den, and are grateful for her guidance and her expertise. We will use her again. If you are looking to consult someone, I strongly recommend Heather Moe.
Mon-Fri: 10am - 5:30pm
Sat: By Appointment
Sun: Closed
Other Custom Cabinets in Escondido: