The Kitchen Source
The Kitchen Source, serving Dallas, Fort Worth, and surrounding areas, has built a reputation for client-focused design and transformative services. The Kitchen Source is one of the Three Best Rated® Custom Cabinets in Fort Worth, TX.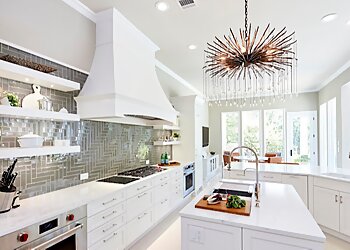 They prioritize partnering with clients to fully understand their ideas, needs, and goals for kitchen, bath, and living space remodels. Through collaborative exploration, detailed review, and customized design planning, they create tailored solutions that truly reflect the clients' vision. The Kitchen Source works closely with clients to select the perfect finishes, ranging from handcrafted made-to-order custom cabinets to professional-grade appliances, premium-grade surface materials, exquisite fixtures, lighting, and hardware selections. With a spacious 7,500 square feet showroom, they showcase an extensive collection of kitchen, bath, and interior options, offering both functionality and beauty. Their team of certified professional designers, known for their award-winning expertise, combines their skills to provide the best possible experience for clients. At The Kitchen Source, they are dedicated to creating stunning spaces that exceed expectations and fulfill the unique desires of each client.
Kitchen

Bathroom

Custom Cabinetry

Hand Crafted Cabinetry

Vanities

Countertops

Cabinet Doors

Pantries

Laundry Room

Mudroom

Pantry

Outdoor Kitchen Design

Project Management

Wine Cellar

Remodeling

Closets

Offices & Home Remodeling
I highly recommend The Kitchen Source. Our kitchen remodel is beautiful! It is a fantastic update to our home, and I feel 10 years younger in my new kitchen! What a deal! I worked with Lane Taylor at The Kitchen Source. Lane and my designer, Suzy Kaye, were a fabulous team. Lane is a talented designer, smart and fun. The customer service she provided during every phase of our kitchen remodel was exceptional. Her attention to every detail ensured the kitchen remodel went smoothly, was finished on time, and that the finished product met all of my expectations.
From the initial contact with my designer, Elizabeth, to the final checklist, I couldn't have been happier. The Kitchen Source team is wonderful to work with, the project came in on time and on budget, and the result is gorgeous.
My experience with Kitchen Source was outstanding. I live in the country outside of Fort Worth, TX. Have a unique house in my mind. And had very limited space in my very dated kitchen, needing total replacement. With resources limited in my community, decided to take this project to Kitchen Source in Fort Worth. The designers were very knowledgeable and easy to work with, left out no details, and came up with a stunning plan. The installers responsible for implementing the plan did so with minimal interruption to my home and life and did a fabulous job. The site supervisor visited on a regular basis and ensured every last detail was perfect.
Mon-Fri: 9am - 5pm
Sat: By Appointment only Sun: Closed
Nearby Custom Cabinets in Fort Worth: