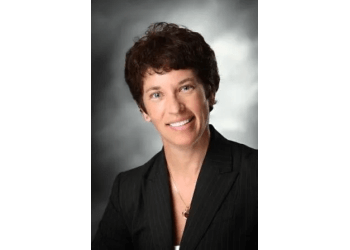 Cindy M. Kirby has extensive experience in family law. She provides aggressive representation while balancing the best interests and needs of the client, the children, and the family involved. Cindy's knowledge and experience have been enhanced in courtrooms for more than twenty-seven years. Her initial consultations are a two-hour appointment so that you receive all of the information and advice you are seeking. She asks potential clients to bring necessary documents to their initial consultation so that she can talk about their specific situations instead of generalities. Cindy is a recipient of numerous awards from legal and community organizations. Contact her office, and you can expect to receive a prompt call back, even in the evenings and weekends. Their office includes Fiona, Attorney at Dog. Fiona is a certified therapy dog and comes to the office every day ready to assist their clients. Kirby's clients can call her at any time for an appointment.
Specialty:
Dissolution, Custody, Civil Domestic Violence Cases, Parenting Time, Support Issues, Juvenile, Domestic Relations, Family Law, Abuse, Neglect & Dependency Cases
Award:
Selected as a mentor for new attorneys by the Ohio Supreme Court and the Toledo Bar Association - Awarded the 2021 Jean Crowe Pro Bono Award by the American Bar Association Family Law Section - She is on the Executive Board of the Toledo Bar Association and slated to be President of the TBA beginning in June of 2023.
Contact:
Working Hours:
Mon-Fri: 8:30am - 5pm
Sat & Sun: Closed
TBR® Inspection Report: