Bradley Robb Tengler - LAW OFFICE OF BRADLEY R. TENGLER, P.C.
Bradley Robb Tengler earned his law degree from Northern Illinois University College of Law with honors, graduating cum laude. Bradley Robb Tengler - LAW OFFICE OF BRADLEY R. TENGLER, P.C. is one of the Three Best Rated® Divorce Lawyers in Rockford, IL.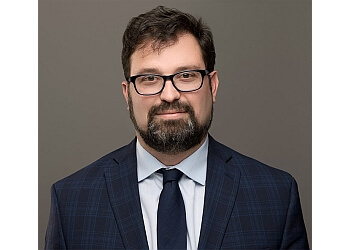 His commitment lies in delivering personalized attention and assertive advocacy to his clients. Bradley has built a reputation for providing exceptional service, which is widely regarded as unparalleled. He proudly serves Rockford and the neighboring areas of Illinois, firmly believing that every individual deserves outstanding legal representation. Bradley is renowned for his exceptional problem-solving abilities, as he endeavors to resolve cases prior to resorting to litigation. He and his legal team employ all available resources to strengthen your case, increasing the likelihood of a positive outcome. Throughout the process, Bradley remains dedicated to achieving your goals for your specific situation. Moreover, he offers bilingual services in both English and Spanish. To schedule a complimentary initial consultation, please reach out to their firm.
Maintenance (Alimony)

Spousal Maintenance

Child Support and Custody

State and Federal Pension Plans

Hidden Assets and Offshore Accounts

Adoption

Real Estate Investments and Vacation Properties

Grandparent Visitation

Orders of Protection

Guardianship

Division of Retirement Assets & Family Services
Attorney Tengler and his paralegal made me feel informed and as though I had an active role in my OWN divorce process, something that my previous divorce attorney had not done. I am grateful for taking the leap of faith and changing attorneys mid-divorce based on our telephone interview. Brad is compassionate and kind and will go above and beyond for your family situation. I will be recommending him to any family and friends should they need the services.
Great lawyer! Its hard to find one who genuinely cares about your situation and Brad definitely does! Im on my second go around using Brad now and i couldn't be more pleased with his services! Also we cant forget about his paralegal Ryan he is just as great as Brad is and is on top of anything or questions you may have! Bottom line if your looking for a great lawyer give Mr. Tengler 's office a call!
Brad handled my divorce quickly and professionally. Further, his fees were more than fair. Brad and his team made things so much easier for me and I truly appreciate it. I highly recommend Brad and everyone in his office should you ever need representation.
Mon-Fri: 8:30am - 5pm
Sat & Sun: Closed
Other Divorce Lawyers in Rockford: