Donald Erwin Ray - RAY LAW OFFICE
Donald Erwin Ray is a seasoned divorce attorney with an extensive experience of more than 26 years in the field. Donald Erwin Ray - RAY LAW OFFICE is one of the Three Best Rated® Divorce Lawyers in Rockford, IL.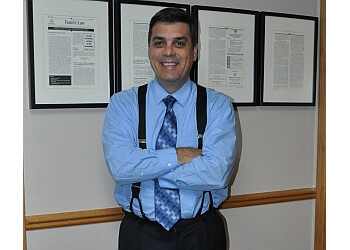 He specializes in handling existing child support orders on a contingency fee basis, ensuring that his clients receive the money owed to them. With a daily commitment to securing the funds, Donald only accepts payment once his clients have the check. This unique approach allows him to effectively handle such cases, showcasing his deep expertise and commanding presence in the courtroom. At Ray Law Office, P.C., their family law attorneys are dedicated to providing compassionate and knowledgeable representation for various family-related legal matters, including divorces and adoptions. They understand clients' emotional and financial challenges during these difficult times. Therefore, their primary focus is pursuing favorable and constructive resolutions enabling their clients to overcome their legal issues swiftly. By prioritizing efficiency and cost-effectiveness, the attorneys at Ray Law Office, P.C. empower their clients to move forward with their lives.
Child Support

Parenting Time (Visitation)

Family Matters

Parental Allocation of Responsibilities(Custody)

Paternity (Non-Married Parents) & Maintenance (Alimony)
In my opinion Attorney Ray is one of the best divorce attorneys in Rockford. His fees are very reasonable. He advocates for his clients and doesn't back down from the opposing side. Explains the process throughly and gives you sound legal advice that's always in your best interest. He doesn't sugarcoat things which I found refreshing. If we ever need his again we will definitely go back.
Attorney Ray handled a complicated multi-state custody case for me recently. He is extremely detail oriented and noticed everything. He often told me the Devils in the details , and nothing went unnoticed by him. Communicating with him was made easy with his knowledge of modern technology and he always got back to me in a timely manner. Often even on weekends. If your looking for experience, good communication, fair billing, and a fighter for your best interests I would recommend attorney Ray. The best thing about going with Attorney Ray is that I didn't have to go against him . My kids are out of harms way and I couldn't have done it without him !
Attorney Ray has been an amazing help for my brothers situation. His fees are upfront and very responsible. I would highly recommend him to anyone needing someone to fight for your rights as a parent.
Consultation Fee: $100 per hour
Mon-Thu: 7am - 5pm
Fri: 7am - 1pm
Sat: 7am - 10am
Sun: Closed
Other Divorce Lawyers in Rockford: