Plaza Del Sol Cleaners
Plaza Del Sol Cleaners is a premier full service dry cleaner located in the Sun City. Plaza Del Sol Cleaners is one of the Three Best Rated® Dry Cleaners in Surprise, AZ.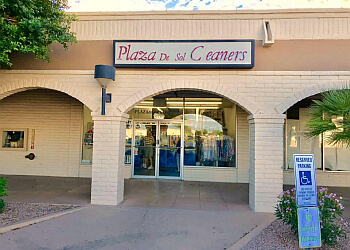 Committed to exceeding expectations and delivering utmost satisfaction, their primary objective is to offer exceptional services. The dedicated staff members are not only friendly but also possess extensive expertise, ensuring top-tier customer service within a warm and inviting environment. Employing a team of skilled professionals, Plaza Del Sol Cleaners executes thorough dry cleaning operations, aiming to revitalize and purify garments to the highest industry standards. By utilizing cutting-edge cleaning systems, superior detergents, and state-of-the-art equipment, they guarantee that your clothing will be returned to you impeccably clean, radiant, soft, and free of stains. Moreover, they provide affordable pricing options, catering to all your dry cleaning requirements.
Suit Jackets

Pants

Blouses

Shirts

Sweaters

Skirts

Coats

Ties

Slacks

Pressing

Finishing

Stain Removal

Household Fabrics

Draperies

Pillows

Comforters

Bedspreads

Linens

Uniforms

Suede

Leather and Fur Cleaning

Clothing Alterations & Repairs Services
Been going there for 12 years now. Love this place. Love the remodel and upgrades. Alterationsare great!!! Great customer service!
This cleaner has been in business for over 25 years their professionalism and friendliness and warm welcome, truly impressed me!! It's our pleasure to recommend this cleaner for high-quality service.
My go-to cleaner. Friendly and efficient with modest prices.
Mon-Fri: 8:30am - 5pm
Sat: 9am - 3pm
Sun: Closed
Nearby Dry Cleaners in Surprise: