Justin T. Holt - MALLORY, LOLLAR, HOLT & ASSOCIATES, P.C.
Justin T. Justin T. Holt - MALLORY, LOLLAR, HOLT & ASSOCIATES, P.C. is one of the Three Best Rated® DWI & DUI Lawyers in Arlington, TX.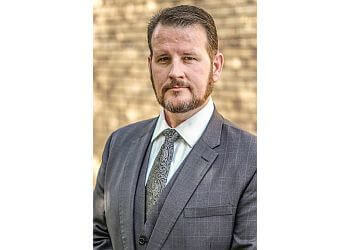 Holt is renowned as one of the top DWI and DUI attorneys in Arlington. He obtained his education from Arizona State University and Texas Wesleyan (now Texas A&M) Law School. Justin has dedicated himself to defending clients in Tarrant County against all Class C misdemeanor violations, exhibiting a relentless commitment to protecting their rights and guiding them throughout the legal process. Notably, Justin offers bilingual services in English and Spanish to cater to a diverse range of clients. He is a valued member of the esteemed law firm Mallory, Lollar, Holt & Associates, P.C., which boasts over 100 years of collective experience serving Tarrant County. The lawyers at the firm are well-equipped to safeguard your rights. Additionally, they represent clients in Haltom City and Fort Worth. Mallory, Lollar, Holt & Associates, P.C. is dedicated to providing a free consultation to thoroughly discuss your case and offer guidance.
License Suspension

Traffic Offense

and Violation

Surcharge Penalties

First Offense

Texting While Driving

Stop Sign or Red Light Ticket

Class C Misdemeanor Allegation

Speeding

Cell Phone in School Zone

No Driver's License

Point's and Surcharges

No Insurance

Expired Inspection & Registration
Best lawyers office in the entire state of Texas! I've used them for 30 + yrs! They help you with everything, you know right where you stand! I have had dealings with lawyers (traffic, criminal (I was robbed), & estate) for my entire adult life and I have never & would NEVER trust another lawyer as much as I do them! They've never done me wrong!!! Which is something I can't say for any of the others!
Mr. Holt is the kind of attorney you want on your side. He has integrity and went above and beyond on my case. Thank you sir! I wish there were more like you.
Justin Holt is a someone you want on your side. Grateful to know him. Honorable and trustworthy, thank you again!
Mon-Fri: 8:30am - 5pm
Sat & Sun: Closed
Nearby DWI & DUI Lawyers in Arlington: