Frederick Goll III, MD - Ear, Nose & Throat Consultants of Nevada
Frederick Goll III, MD - Ear, Nose & Throat Consultants of Nevada is one of the Three Best Rated® ENT Doctors in Henderson, NV.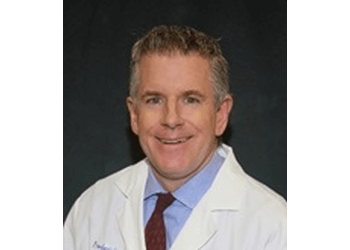 Dr. Frederick Goll is a highly respected ENT specialist in the region with over 20 years of experience in the medical field. He graduated from Washington University in St. Louis School of Medicine in 1990 and completed his residency at Ohio State University Hospital and internship at Iowa Methodist Medical Center. He is currently available at Ear, Nose & Throat Consultants of Nevada and is affiliated with MountainView Hospital. He has broad experience in treating ear, nose, and throat problems and offers convenient scheduling options to his patients. The Ear, Nose & Throat Consultants of Nevada is the largest ENT specialty practice in the Southwest desert region and offers comprehensive management of hearing disorders. The clinic also has in-house CT scanning facilities for convenience at its Northwest office. He is affiliated with the medical facilities Sunrise Hospital And Medical Center and MountainView Hospital and accepts new patients and telehealth appointments at his office.
Tonsils

Breathing Problems

Nasal Congestion and Fractures

Hearing Loss

Earaches

Allergies

Earwax

Sleep Apnea

Snoring

Nosebleeds

Headaches

Voice & Swallowing Disorders
Just had my total thyroidectomy few days ago and D Frederick Goll was my surgeon.I am a retired LD nurse and asked for 2nd opinion,Thank God I met Dr Goll thru Dr Flores who is another excellent Pulmonogist here in N.V.Needless to say my surgery went well with no foreseen complications .A big Thank u also to my Anesthesiologist Dr Thain.God created this skilled people to help s patient like and others.
He is an excellent doctor. Solved my problem very easy. I was having bad rhinitis "attacks"(it was really bad) that no allergies pills was helping. Lost of taste and smell for weeks, extremely itchy nose, hard to breathe, etc. He prescribed me only a nose spray and I was skeptical about it. But for my surprise this fixed my allergies, I never had it again and my quality of life has improved! And I don't have to take it everyday. That's perfect!! I highly recommend this doctor.
I'm not really experiencing what a lot of others are saying. They got me in my appointment quickly, Dr Goll was friendly and thorough, showed me my CT scan while he diagnosed me so I could actually see what was wrong. Scheduling was fast and the lady was nice. Maybe they had a change of staff or I happened to come in on a good day but it was pleasant. Will report back after surgery but it seems like everyone says he's great but the staff isn't.
Aetna, Anthem, Anthem Blue Cross Blue Shield, Blue Cross Blue Shield, Blue Cross Blue Shield of California, CareFirst Blue Cross Blue Shield, Cigna, First Health (Coventry Health Care), Guardian, Humana, MultiPlan & UnitedHealthCare
Mon-Thu: 8:30am - 5pm
Fri: 8:30am - 4pm
Sat & Sun: Closed
Nearby ENT Doctors in Henderson: