Sanity Salon & Spa
Sanity Salon & Spa is a sanctuary where beauty, knowledge, and style are combined to create a rejuvenating experience. Sanity Salon & Spa is one of the Three Best Rated® Hair Salons in Surprise, AZ.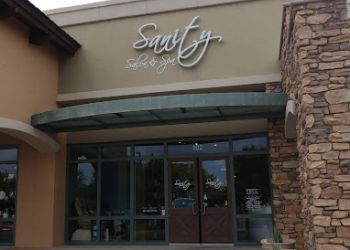 They are a full-service salon offering all hair services that are tailored to meet your standards and budget. The salon's professional team of stylists and colorists creates the latest looks in haircuts and color for men, women, and children. Their team takes pride in providing cutting-edge services by utilizing knowledge of current technology. To stay current with trends and techniques, their hairdressers undergo continuous and rigorous training. All of their hair styling and coloring services are tailored to enhance your beauty and style. They strive to create exceptional guest experiences which relax and revitalize the mind, body, and spirit. Sanity Salon & Spa gladly affords gift certificates for all of its hair and beauty services.
Cut

Style

Specialty Up-Do

Color Services

Color Gloss

Partial Weave

Balayage

Ombre

Color Correction

Perm

Smoothing Treatment

Cap Highlights

Single Foil

Relaxer

Long Hair Perm

Extensions

Brazillian Blowout Smoothing

Relaxer Touch up

Deep Conditioning & Hair Treatment
MJ is incredible! I've been looking for someone who knows what they're doing with curly hair and who can do vivids without destroying my curl pattern! MJ delivered several times over! She's fun, funny, and so good at her job! The salon is clean, well ventilated, and has a very friendly atmosphere! Cannot recommend this place (or MJ) enough!
Liza has been my hair stylist since my daughter and a family friend recommended her a couple of years ago. I am the nervous type when anyone new starts cutting or coloring my hair but Liza has been fantastic. I'm always relaxed with Liza. She understands my hair type and uses products to help with the dryness.
Wonderful! First time coming to this salon and I will definitely go back. Danielle was my stylist and she was so nice, I definitely recommend her services!
Hair Cut:
Womens Hair Cut/Style $50.00
Bang Trim $10.00
Hair:
Consultation $25.00
Toner & Cut $105.00
Wig Trim $35.00
Color:
All Over Color $85.00
All Over Color & Cut $135.00
Retouch Color $75.00
Retouch Color & Cut $125.00
All Over Bleach/Tone $165.00
All Over Bleach/Tone & Cut $215.00
Color & Highlight:
Foil/Color $150.00
Foil/Color & Cut $200.00
Mon,Fri & Sat: 9am - 5pm
Tue-Thu: 9am - 8pm
Sun: 10am - 5pm
Nearby Hair Salons in Surprise: