National Center for Civil and Human Rights
National Center for Civil and Human Rights is a well-maintained museum in Atlanta, Georgia. National Center for Civil and Human Rights is one of the Three Best Rated® Landmarks in Atlanta, GA.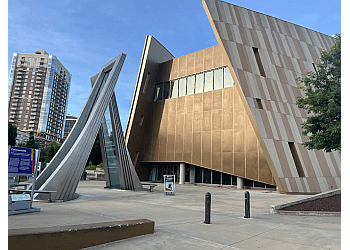 They inspire visitors and their other audiences with immersive exhibitions, dynamic events and conversations, and engagement and education/training programs. In addition, they hold various events, including performances, book talks, lectures, and discussions aimed at promoting equality and dignity, both in-person and online, through their Campaign for Equal Dignity. They offer human rights training to law enforcement officials and provide Diversity, Equity, and Inclusion (DEI) experiences to workplaces. Their Advocacy Academy is designed to effectively train students, advocates, and nonprofit leaders to engage in civic life. Discover tales of bravery and motivation at The Center's acclaimed interactive exhibitions, offering an immersive and engaging experience that has earned multiple awards. The center showcases cultural artifacts, artwork, and photographs from the Civil Rights Era and related to human rights. It is conveniently located within a 10-minute walking distance from the MARTA Civic Center Stop.
History Museum

Tourist Attraction

Public Places & Attractions
Amazing museum. I learned quite a bit that I didn't know about Civil and Human Rights. The museum was laid out wonderfully. One of the nicest Civil Rights museums that I have visited. There was an exhibit where you could get simulation of participating in a sit-in. It was intense and a bit emotional.
We stopped in after a visit to the Aquarium. It is a very moving experience. The interactive sit in counter really moved me. There's 3 floors so make sure you don't miss anything.
Wonderful Museum, I learned a lot here. Not too crowded either which is nice, great informative exhibits.
Adult $19.99
Youth $15.99
Senior $17.99
Tue-Fri & Sun: 12pm - 5pm
Sat: 10am - 5pm
Mon: Closed
Nearby Landmarks in Atlanta: