Michael Koyfman, DMD - Koyfman Dental
Michael Koyfman, DMD - Koyfman Dental is one of the Three Best Rated® Dentists in Orlando, FL.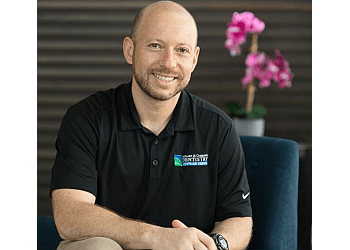 Dr. Michael Koyfman is esteemed as one of the finest dentists in Orlando, FL, with a distinguished educational background. He earned his degree from Vanderbilt University in Nashville, TN, and further enhanced his expertise with advanced dental education at the University of Florida.Driven by a commitment to providing the best possible care, Dr. Michael Koyfman has undertaken extensive continuing education, participating in hundreds of hours of additional training. His dedication to excellence in implantology is evident from his fellowship with the International Congress of Oral Implantologists. Actively involved in the dental community, Dr. Koyfman is a valued member of esteemed organizations such as the Florida Dental Association, American Dental Association, and Dental Society of Greater Orlando. Furthermore, he contributes to dental research as an active DPBRN (dental practice-based research network) researcher, sharing valuable clinical research studies globally. Dr. Michael Koyfman's practice at Koyfman Dental encompasses a wide range of preventive, restorative, cosmetic, and pediatric services. Beyond his commitment to his practice, Dr. Koyfman demonstrates his compassion by volunteering at the downtown Orlando Research Dental Clinic, providing much-needed dental care to the underprivileged. With a focus on delivering optimal comprehensive care, Dr. Michael Koyfman has earned the trust and gratitude of patients in Orlando, FL. His dedication to ongoing learning, community service, and patient-centered care solidifies his reputation as a top-notch dentist in the area.
Swollen and Bleeding Gums

Bone Loss in Jaw

Cavity

Cleft Lip and Palate

Cracked

Gap

Impacted Wisdom and Crooked Teeth

Dry Mouth

Gingivitis

Gummy Smile

Infected Gum Pockets

Jaw Pain

Loose Tooth

Missing

Overbite

Sensitive and Stained Teeth

Sleep Apnea

Teeth Grinding

TMJ & Underbitande
Excellent Dental Care I did dental implant and it was outstanding , I was greeted by a warm and friendly staff who made me feel comfortable . Dr Koyfman is incredibly knowledgeable and skillful. They took the time to thoroughly explain the treatment process and answered all my questions with patience and clarity. Their expertise and attention to details were evident throughout the procedure, ensuring a painless and successful outcome. What impressed me the most was the genuine care and compassion shown by Dr. and their team. They made sure I was comfortable at all times, alleviating any anxiety.Their friendly manner made the entire experience pleasant and stress-free. I highly recommend Dr Koyfman to anyone Their expertise, professionalism, and compassionate approach set them apart. I am grateful to have found such a wonderful dentist .
Yesterday I had a sinus implant. Dr. Koyfman gave me the dose of anesthesia is just right. It made me very comfortable as I am very slim I had experienced serval times of overdose before. Dr. Koyfman not only patiently and professionally replied all questions I had but also he was very skillful throughout the operation. It only took 15-20 minutes to complete the surgery that made me feel amazing. Facing my compliment, Dr. Koyfman told me he used the most advanced materials. Thank you so much Dr. Koyfman !
They did it AGAIN!! No one can anticipated an emergency visit. So when it happens you better have the best team there is!! Even your best look is treated like an emergency here! I lost my temporary front tooth crown and from the time I called to the time I left their office, it took less than an hour!! And the result looked even better than the original!! GO TEAM KOYFMAN!!
Accepts Many Insurance Plans
Mon-Thu: 7am - 4pm
Fri: 7am - 2pm
Sat & Sun: Closed
Nearby Dentists in Orlando: