St. Matthew-Daniel, DMD - ALL ABOUT BEAUTIFUL SMILES
St. Matthew-Daniel, DMD - ALL ABOUT BEAUTIFUL SMILES is one of the Three Best Rated® Dentists in Orlando, FL.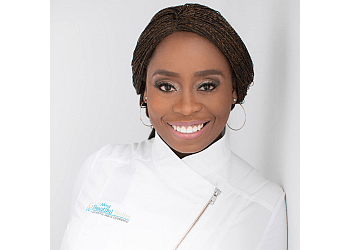 Dr. St. Matthew-Daniel is renowned as one of the finest dentists in Orlando, FL. She boasts an impressive medical career of over 21 years. Her educational background includes graduating from the prestigious University of Pennsylvania in Philadelphia. She then completed her residency at Seton Hall University, NJ, and St. Joseph's Hospital in Paterson, NJ. With a strong commitment to dental excellence and a dedication to providing world-class service, Dr. St. Matthew-Daniel stays at the forefront of the latest treatments and cutting-edge research. This enables her to assist patients in achieving their dental goals effectively. She places a special emphasis on preventive care and patient education, ensuring that her patients feel comfortable and well-informed throughout their dental journey, leading to the beautiful and wholesome smiles they desire. At All About Beautiful Smiles, Dr. St. Matthew-Daniel is part of an exceptional team that works tirelessly to break down barriers between patients and the attractive, healthy smiles they deserve. With a focus on providing complete, convenient, and comfortable dental care, they deliver world-class assistance and top-notch quality to meet and exceed their patients' expectations. Dr. St. Matthew-Daniel's passion for dental excellence, combined with her dedication to patient satisfaction, makes her a standout dentist in the Orlando area, admired and trusted by patients and their families alike.
Cosmetic Dentistry

Crown and Bridge Prosthodontics

Laser-Based Periodontal Surgery

Conscious Sedation and Anxiety Management

Oral Surgery (Extractions)

Dental Implants

Orthodontics (Invisalign®)

Endodontics (Root Canals)

Full and Partial Dentures

Implant Reconstruction & Sleep Apnea Treatment
All about beautiful smiles is my new go-to dental office. Due to my dental phobia I'm the worst patient that not any dentist can deal with. Dr. St. Matthew- Daniel and her staff make sure I feel comfortable from start to finish. Everyone is very kind and friendly. I have excessive work to do about my teeth and I'm glad I found the doctor I can trust. My last visit I had to get 4 fillings but could pay only for 3. Doctor was so kind , she made one complimentary! I've got 4 fillings for the price of 3! I can't thank enough the doctor, dental assistants, front desk and the whole staff for taking such a good care of me!
Can't even begin to describe how amazing All About Beautiful Smiles is! Top notch care for the patients! Dr. St. Matthew Daniel is simply the best! Eva has been super knowledgeable, professional and great to deal with. I highly recommend them.
Ive been coming here for over 5 yrs and i must say its an absolute pleasure to be apart of this awesome family. Teri is my all time favorite to visit in the office. Her guidance and ability to stay connected with me despite how many times I try to brush her off has truly paid off. I will upload my photos of all dental treatment when we have finished the process. I love this dental office and thanks again Mrs. Teri.
Accept Most Insurance Plans
Mon: 8:30am - 5:30pm
Tue: 10am - 6pm
Thu: 9am - 5:30pm
Fri: 8:30am - 3pm
Sat & Sun: Closed
Nearby Dentists in Orlando: