Shelby P. Lapiad, DDS - RIVERPARK DENTISTRY
Shelby P. Lapiad, DDS - RIVERPARK DENTISTRY is one of the Three Best Rated® Dentists in Oxnard, CA.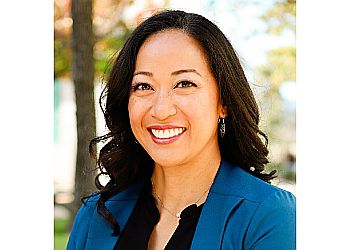 Dr. Shelby P. Lapiad is a highly skilled and respected dentist practicing in Oxnard, CA. She obtained her Doctorate of Dental Surgery from the University of California, Los Angeles (UCLA) School of Dentistry, with high academic and clinical honors. Dr. Shelby is an active member of professional dental organizations such as the American Dental Association (ADA), California Dental Association (CDA), and the Academy of General Dentistry (AGD). With extensive experience working in Santa Barbara and Ventura Counties, she provides comprehensive dental care to patients of all ages, ranging from one year old to 101 years old. At Riverpark Dentistry, patients can expect a contemporary and modernized office with a friendly and caring staff that strives to make their dental experience unique and comfortable. The team at Riverpark Dentistry goes above and beyond to ensure patients feel at ease, comfortable, and well taken care of during their visit. They even offer complimentary wifi for patients' convenience.
General Dentistry

Inlays

Onlays

Crowns

Cosmetic Dentistry

Bridges

Implants

Partial and Complete Dentures

Preventive Care

Gum Disease

Sealants

Root Canals

Endodontics

Extractions

Bone Grafting

Teeth Whitening

Colored Fillings

Veneers

Laser Gum Therapy

Sleep Apnea

Mouthguards & Tooth-Colored Crowns
Loving my dentist's, Dr. Shelby Lapiad's, high tech gadgets. Thank you and your staff for taking good care of my dental work! It's always a joy and pleasure coming in for an appointment. I highly recommend this dental office!
River Park Denistry is the best at what they do! Their service and care are phenomenal and I feel fortunate to have found this dental office since day one! Thank you to the front office, my hygienists and doctors! You're amazing!
I'm normally not a fan of going to the dentist, but the staff here are very friendly and professional that they make me feel a lot less anxious about the visits. The office is always nice and clean too!
Aetna, Ameritas, Anthem Blue Cross, Anthem Blue Cross Blue Shield, Cigna, Delta Dental, Dental Network of America, Dentemax, Guardian, Humana & Unitedhealthcare
Mon,Tue,Thu & Fri: 9am - 5pm
Wed: 11am - 7pm
Sat: 8am - 12:00pm(By Appointment Only)
Sun: Closed
Nearby Dentists in Oxnard: