April Eldemire, LMFT - COUPLES THRIVE
April Eldemire has over a decade's experience as a Marriage and Family Therapist and obtained her Master's Degree from Nova Southeastern University with a focus on conflict analysis and resolution. April Eldemire, LMFT - COUPLES THRIVE is one of the Three Best Rated® Marriage Counselors in Fort Lauderdale, FL.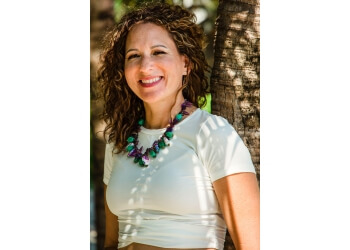 Her private practice works with couples experiencing relationship challenges, unresolved conflict, infidelity and betrayal, communication breakdown, and loss of connection. She is trained in the most effective couples therapy modalities, Emotionally-Focused Couples Therapy, and Gottman-Method Couples Therapy. Both models are research-based methods that focus on improving communication, lessening conflict, strengthening friendship, and improving the couple's connection. April helps couples understand where they feel stuck while finding strategies, tools, and skills to improve their relationship. She provides a free phone consultation.
Marriage and Couples

Individual

Family

Gottman-Method Couples and Emotionally Focused Couples Therapy

Bringing Baby Home Workshop

Blended Family Dynamics

Pre-Baby/New Parent & Pre-Marital Counseling
Pursuing therapy can be overwhelming, it was for me. However, finding April was the best thing that happened for the sake of my relationship with my husband. April is caring, genuine, calm, and really just an overall rockstar therapist. She truly listens and has a unique way of leading you down a path of self assessment and self realization. Her technique allowed me and my husband the capacity to expand our perspective of one another, resulting in a level of understanding that we couldn't achieve on our own. We highly recommend April, she is simply the best.
Working with April as a therapist has been very helpful, not only on a relationship level but individual as well. I came across April's info when searching for a couple's counselor in the area, and can confidently say all the positive remarks are true. April did a great job at discovering & rooting out the core issues, and was even more paramount in helping me understand what was happening on the individual level and how to see things from a better perspective while trusting in myself. Highly recommend April and Couples Thrive for anyone seeking relationship counseling and advice.
I've known April Eldemire professionally for several years now and highly recommend her services. She does tremendous work with those looking to revitalize their relationship and she also serves individuals and families. April is warm, smart, and very dedicated to her practice. She is a trusted professional in the South Florida community and I can't recommend her enough!
Starts from $225 per hour
Mon & Fri: 10am - 3pm
Wed: 10am - 3pm
(virtual hours only)
Tue & Thu: 12pm - 8pm
Sat & Sun: Closed
Other Marriage Counselors in Fort Lauderdale: