Corinne E. Scholtz, Ph.D, LMFT - THE CENTER OF CONNECTED LIVING
Corinne E. Corinne E. Scholtz, Ph.D, LMFT - THE CENTER OF CONNECTED LIVING is one of the Three Best Rated® Marriage Counselors in Fort Lauderdale, FL.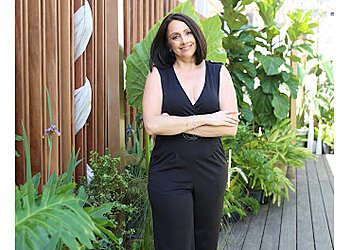 Scholtz, a licensed Marriage and Family Therapist based in Fort Lauderdale, Florida, brings nearly two decades of experience to her practice. Her passion lies in helping couples discover happiness in their relationships. Currently, Corinne serves as a private practitioner, providing virtual therapy services to a diverse community of clients. Her approach incorporates various techniques, including solution-focused dialogue, emotionally focused therapy, cognitive re-framing, interpretation of meaning, awareness exercises, and self-monitoring experiments. Guided by a strengths-based perspective, she values the significance of the past, works with clients in the present moment, and focuses on shaping a positive future. Furthermore, Corinne offers complimentary 15-minute phone consultations for potential clients, as well as a new 3-hour Online Marriage Masterclass.
Regrettable Conversations

Intimacy and Emotional Closeness

Lack of Trust

Individual

Couples and Family Therapy

Premarital

Marriage Counseling

Anxiety

Depression

Health & Well-Being
Dr. Scholtz is absolutely wonderful! My fiance and I completed pre-marital counseling and had a wonderful experience. She is compassionate, easy to talk to, and very professional. We both felt safe enough to be emotional and vulnerable, and we worked through many areas that are critical to the success of our marriage. I feel confident in our relationship and ability to navigate the challenges of parenting, family dynamics, finances, religion, and more...so excited for our wedding just two months away! Thank you, Dr. Scholtz. We will absolutely be back any time our relationship hits a challenge we struggle to overcome without support.
Dr. Corinne is very professional and is always accessible and truly cares about her clients. She knows how to relate to young adults has given me the tools and strategies to handle the stress that comes with college, relationships, the unknown of the future and so much more. I could not recommend her enough!
Corinne is a remarkable therapist. I've had many marriage and personal counseling sessions with her over the years and the therapeutic talent she carries has worked wonders for my wife & myself. We've seen a few therapists before, but once we experienced Corinne's deep understanding and great neutral p
Individual Sessions: $225
Couple Sessions: $225
Discount
5% special Off only for ThreeBestRated customers
Mon-Thu: 11am - 5pm
Fri: 11am - 3pm
Sat & Sun: Closed
Other Marriage Counselors in Fort Lauderdale: