Sam Nabil, MA, LPC - NAYA CLINICS
Sam Nabil is a Licensed Professional Counselor in Boston, Massachusetts. Sam Nabil, MA, LPC - NAYA CLINICS is one of the Three Best Rated® Marriage Counselors in Boston, MA.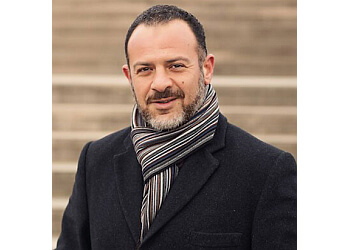 He has been practicing mental health counseling for more than 15 years. He specializes in human performance, human behavior, and organizational behavior. With his broad multicultural experience, having lived, studied, and worked in several countries worldwide, he offers a unique counseling experience that helps clients achieve their goals and desires in life, relationships, and work. Sam Nabil creates a safe and non-judgmental environment for his clients, providing life coaching, therapy, and marriage counseling services. He founded Naya Clinics, which offers Positive Existential Therapy (PET), an innovative and effective therapeutic method for addressing client issues. The clinic operates in North America (west), the Middle East, and North America (east) regions.
Couple

Individual

Marriage

Divorce

Relationship and Alternative Counseling

Life Coaching

Intimacy

Communication

Cooperation

Sense of Belonging

Anxiety

Grief

Self-Esteem

Stress

Trauma

Loneliness

Personal Growth

Depression

Addiction

Autism & Special Needs
If you are looking for a therapist who is supportive, empathetic and genuinely wants to help you with whatever you are struggling with, you can't go wrong with choosing any of the skilled therapists at the highly-rated Naya Clinics. You will find a warm, accepting environment where you will feel safe to explore your needs, build on your strengths, and collaborate to find solutions to help you lead a positive and fulfilling life.
Sam has been an amazing cheerleader personally and professionally- I will continue to use him as a support to take my business to the next level. I would highly recommend!
Best of the best therapists. Every interaction I have had with Naya Clinics has been professional, welcoming, and encouraging. Naya Clinics is the future of mental health counseling.
Nearby Marriage Counselors in Boston: