Indy Massage Company
Indy Massage Company is dedicated to providing exceptional, personalized treatments in a serene and rejuvenating atmosphere. Indy Massage Company is one of the Three Best Rated® Massage Therapy in Indianapolis, IN.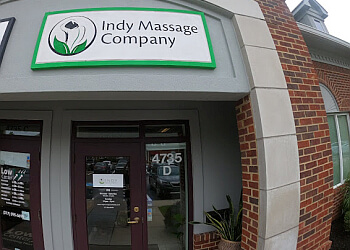 The inception of Indy Massage Company dates back to 2013. Their team consists of experienced and highly skilled licensed massage therapists and estheticians who are committed to meeting their clients' wellness goals. They express deep gratitude for every client who entrusts them with their well-being. The massage therapists at Indy Massage Company possess extensive expertise in a wide range of modalities, ensuring optimal results and a truly enjoyable experience for their clients. Their comprehensive menu includes advanced modalities and treatments designed to alleviate pain, release muscle tension, and alleviate daily stress. As an added benefit, they offer complimentary hot towels and aromatherapy to enhance the overall experience. Indy Massage Company also provides gift cards and convenient online scheduling, making it easy for clients to access their services.
Massage: Deep Tissue

Swedish

Couples

Gua Sha

Four Hand

Prenatal

Thai

Foot

Chair Massages

Led Light Therapy

Anti-Aging Facial Featuring Lumafirm Lift

Back and Glow Treatment

Express Signature Facial

Biomagnetic Cupping

Thai Herbal Compress & Hair Removal
I absolutely love going to Indy Massage Company. The experience is amazing from start to finish. Recently I have had massages from Courtney, Chelsea, and Demi, and every time I leave I think, "that was the best massage I've ever had." You can't go wrong with any massage therapist here! I love that the experience is different every time and is tailored to your specific needs. You'll leave here anxious to book your next appointment.
The atmosphere was very warm and inviting. My appointment today was for a Sweedish Massage with Demi and it was absolutely wonderful & relaxing! I would definitely recommend Indy Massage Company off 82nd St. I will definitely be a returning customer.
The BEST massages! I've had massages done at a few different spots over the years, but now I'm loyal to Indy Massage Company. Kat and Demi are both amazing. So relaxing and I'm to the point now where I book my next massage right after my appointment because they're just that good.
Deep Tissue Massage:
30-minute – $50
45-minute – $75
60-minute – $79
90-minute – $120
120-minute – $160
Swedish Massage:
30-minute – $45
45-minute – $65
60-minute – $79
90-minute – $110
120-minute – $150
Four-Hand Massage:
30-minute – $90 (Deep tissue $100)
60-minute – $158 (Deep tissue $178)
90-minute – $220 (Deep tissue $240)
120-minute – $300 (Deep tissue $320)
Prenatal Massage:
30-minute – $45
45-minute – $65
60-minute – $79
90-minute – $110
Thai Massage:
30-minute – $45
60-minute – $75
90-minute – $110
120-minute – $150
Hot Stone Massage:
30-minute – $65
45-minute – $85
60-minute – $99
90-minute – $130
120-minute – $170
Mon-Wed: 10am - 8pm
Thu & Fri: 10am - 4pm
Sat: 9am - 6pm
Sun: 12pm - 6pm
Other Massage Therapy in Indianapolis: