Lotus Blossom Massage Spa
Lotus Blossom Massage Spa was established with a vision to provide luxurious havens for both women and men, offering a harmonious escape from their busy lives through relaxation and rejuvenation since 2010. Lotus Blossom Massage Spa is one of the Three Best Rated® Massage Therapy in Orlando, FL.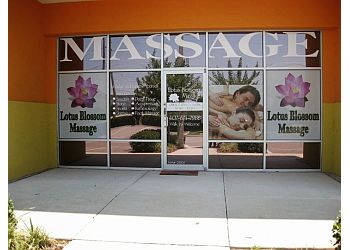 Beyond massage therapy, this center also offers a diverse range of progressive aesthetic services, encompassing both spa and medspa treatments. At Lotus Blossom, clients in the Central Florida area are pampered with an array of massage, skincare, and oriental medicine treatments, all delivered with the utmost standard of personalized care and professional expertise. Their therapists are committed to leading the LB Spa industry, staying at the forefront of advancements in massages, skincare, and wellness services through continuous in-house training for their experienced staff. With a focus on providing exceptional service, Lotus Blossom Massage Spa also offers gift cards and membership programs, ensuring that their clients can enjoy their rejuvenating treatments on their terms. Indulge in the elegance and relaxation that await you at Lotus Blossom Massage Spa, where a team of skilled professionals and an unwavering commitment to well-being combine to create an unforgettable spa experience. Discover a sanctuary of tranquility and renewal, leaving you feeling revitalized and ready to take on life's challenges with renewed vigor.
Couples

Swedish

Therapeutic Deep Tissue

Lymph Drainage

Combination

Reflexology

Acupressure

Sports

Hydrating

Signature

Detox

Hot Stone

Swe Thai and Tui Na Massages

Brightening

Anti-Aging

Bio-Cell Collagen

Detox Body Wrap & Waxing Services
Best massages we've ever had! Our family of 5 decided to get a last-minute massage on our vacation. We were able to schedule our entire family a day prior, and all ended up loving the massages. Angela, the owner/manager, was my masseuse and did an amazing job. She did a great job at addressing my pains but also making the massage relaxing. My husband was massaged by a man (we don't know his name) who was a medical massage therapist. He did a wonderful job, as well. We all loved the hot towels and great oils. We are so thankful Angela fits us in and for the spectacular business, she runs. We hope to come back to Lotus Blossom Massage soon!
Professional, Accommodating and Friendly staff. Hot Stone massage was amazing! Sports massage for my daughter worked well to stretch and loosen her up for competitions. Relaxed environment with additional spa services for an all inclusive experience. Affordable pricing.
What a great experience! They cured my wife of several long term issues, one with her neck, and another with her hand. Great to see that they have a Thai massage therapist trained in Thailand too! Will definitely return!
Swedish Massage
60 mins: $99
90 mins: $139
Reflexology Massage
60 mins: $109
90 mins: $149
Sports Massage
60 mins: 119
90 mins: $169
Therapeutic Deep Tissue Massage
60 mins: $119
90 mins: $169
Hot Stone Massage
60 mins: $119
90 mins: $169br> Couples Services
Lotus Signature Couples Massage
60 mins: $189
90 mins: $269
Warm Roses Couples Massage
60 mins: $189
90 mins: $269
Romantic Chocolate Couples Massage
60 mins: $200
90 mins: $280
Ultimate Bliss Honey Couples Massage
60min: $239
90min: $319
Cupids Kiss Couples Massage & Facials
90min: $298
Discount
50% Off for Floridian New Customers
Mon-Sat: 10am - 8pm
Sun: 10am - 7:30pm
Nearby Massage Therapy in Orlando: