Massage Heights Ironworks
Massage Heights Ironworks, a massage center committed to providing exceptional service, a wide range of treatments is available to cater to the unique needs of their guests. Massage Heights Ironworks is one of the Three Best Rated® Massage Therapy in Indianapolis, IN.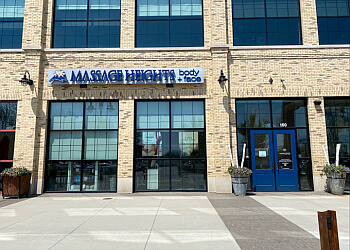 Whether you prefer a Swedish, Deep Tissue, or Sports Massage, their team of professional therapists will attentively listen to your requirements and create a customized plan accordingly. Their licensed massage and skin therapists work closely with you, taking the time to understand your lifestyle, health condition, and specific preferences. To ensure a personalized experience, each massage or facial service includes a consultation and dressing time of up to ten minutes. With over 100 locations currently open, Massage Heights Ironworks has ambitious expansion plans throughout the United States. They offer great introductory rates on their services, allowing customers to enjoy tailored treatment at a special rate. As a bonus, first-time guests and members receive complimentary Aromatherapy. Additionally, gift cards are available, making it easy to share the gift of relaxation and wellness with loved ones.
Massage: Couples

Swedish

Prenatal

Sports and Deep Tissue Massages

Targeted Treatments

Elevation

Aromatherapy & Facials
The front staff could not be any more friendly. We were cutting and laughing before and after the massage. Jose was my massage therapist. He was very nice and did an amazing job! We had some laughs during the massage too. I didn't realize I had lost any mobility until after the appointment. When it came back. The massage was a last minute decision to today. Best decision in a long time. BIG thank you to the front staff and especially Jose! So much more comfortable now.
I don't usually leave reviews but when someone is as good at her craft as Kait it deserves to be highlighted. I have gotten many massages and Kait's massages is by far the best. She is able to find your tense areas, knots, lactic acid build up and relieve them. She can apply strong pressure throughout the massage. She was even able to tell what muscle group I worked out last because of the lactic acid build up. Simply incredible.
All staff are friendly and professional. I've had sessions with multiple therapists here. My best advice is to try different people until you find someone you love. They have a subscription plan which seems reasonably priced.
Massage Sessions:
60 Minutes $69.99
90 Minutes $104.99
120 Minutes $139.99
Facial Sessions:
60 Minutes $79.99
90 Minutes $119.99
Dynamic Cupping Therapy $25
Dry Brushing $20
Hot Stone Therapy $20
Revitalizing Face Massage $12
Reviving Foot Scrub $12
Skin Enriching $12
Skin Purifying $12
Skin Refining $12
Microdermabrasion $30
Pro Power Peel $30
IonActive Serums $12
Hemp-Infused Massage $25
Mon-Fri: 9am - 9pm
Sat & Sun: 9am - 7pm
Other Massage Therapy in Indianapolis: