Lightning Mortgage
Lightning Mortgage is a highly regarded Mortgage Company in Jersey City that prides itself on exceeding customer expectations by offering the best rates, service, and options for a home loan tailored to your needs. Lightning Mortgage is one of the Three Best Rated® Mortgage Companies in Jersey City, NJ.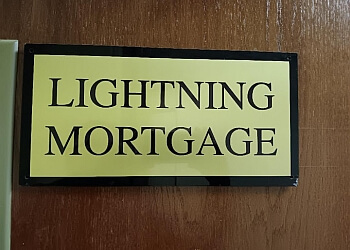 With a commitment to providing complete security, safety, and peace of mind, only highly trained professionals work for and with you to ensure that you receive exceptional service. They offer a variety of loan options that allow you to achieve homeownership with the speed and service you deserve. If you're looking to take advantage of a better interest rate or consolidate other debt, their home refinance options are an excellent choice for reducing monthly payments or freeing up cash. Lightning Mortgage has been serving clients in Connecticut, New Jersey, and New York.
Private Mortgage

Fixed and Adjustable Rates

Home Buying

Refinance

Purchase & First Home Buyer
My Wife and I recently used Jamie for the purchase of our first home. We worked with him for months getting our credit history in order, and he was always available for the hundreds of questions we had. he really cared about our finances and steered us in the best direction, even reviews all documentation to ensure we were in good standing with everything. he is very humble easy to talk to and a caring human being. I don't know how we would've gotten through the whole experience without Jamie. if you want to feel comfortable with a mortgage broker who knows what they are doing and will work is butt off for you then Jamie for you. thank you very much Jamie.
I would highly recommend Jaime. We decided to try and buy a house during one of the toughest markets. Although we had obstacles, Jaime helped guide us in the right direction and was always there for us. Jaime was there every step of the way going above and beyond. He kept my wife and I informed throughout the entire process. Anytime I called with a question, Jaime had an answer. He is very knowledgeable and truly cared. I am very happy that Jaime was recommended to me and I was able to use his expertise during my home buying experience.
Hats off to Lightning Mortgage for such an amazing Job! Best way to go for financing you new home for sure! Very helpful and knowledgeable. I am thanked for all the support! All around Jaimie was a great person to work with.
Mon-Fri: 8:30am - 6:30pm
Sat: 9am - 7pm
Sun: 9am - 6:30
Nearby Mortgage Companies in Jersey City: