Jackson Moving & Storage
Jackson Moving & Storage stands as a reputable and leading company in the field of moving and storage, catering to the needs of residents in Naperville. Jackson Moving & Storage is one of the Three Best Rated® Moving Companies in Naperville, IL.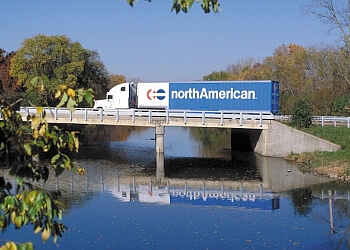 With decades of industry experience, they have honed their expertise in transporting both household and commercial goods. At Jackson Moving & Storage, their primary focus is to provide reliable door-to-door relocation services. They offer seamless transportation from virtually any origin to any destination, ensuring safe and stress-free moves. The company takes pride in their professional, uniformed crews who undergo thorough background checks, ensuring the security of your belongings. They possess an extensive range of trucks and trailers, enabling them to efficiently manage relocations of varying sizes and complexities. Recognizing that moving can be overwhelming, Jackson Moving & Storage takes on the responsibility of alleviating that stress from their customers. They work closely with you at every stage, from planning to execution, ensuring a smooth and successful relocation. To assist in the planning process, the company offers complimentary moving quotes. This allows customers to obtain an estimate of the cost involved, enabling them to make informed decisions. Overall, Jackson Moving & Storage is committed to delivering exceptional service, reliability, and customer satisfaction.
Commercial

Local

Long-Distance

International

Apartment

Residential Moving

Packing

Corporate Relocation

Storage

Small Moves

Warehousing

Self and Record Storage
Customer service and follow up from the move coordinator (Vernita) was top notch! Movers showed up on time and worked carefully and quickly. Tino was great! A few days before the move I needed to added a few weeks of storage and they were able to easily accommodate that which relieved a lot of stress for me. I obtained 3 prices for an out of state move and their price was the most competitive. Overall very satisfied for this first part of the move. Thank you!
Movers were super efficient, independent, and clean! Super happy with the service and would recommend them
Very cooperative! They made the move a surprisingly easy and pleasant experience.
Nearby Moving Companies in Naperville: