Reebie Storage and Moving Co
Reebie Storage and Moving Co prides itself on its highly-trained professionals who are dedicated to assisting you throughout every stage of your move, starting from the initial pre-move planning all the way to the final invoicing. Reebie Storage and Moving Co is one of the Three Best Rated® Moving Companies in Naperville, IL.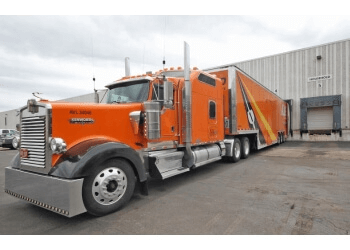 Founded by William C. Reebie in 1880, the company has a long-standing history of providing top-notch and all-encompassing moving services to their esteemed customers, transporting them to various destinations worldwide. With a robust infrastructure and abundant resources, Reebie Storage and Moving Co possesses the capacity and capability to relocate your belongings to any part of the globe. They are a reputable and reliable company, committed to delivering a comprehensive and high-quality moving experience regardless of your destination. As part of their commitment to exceptional service, Reebie Storage and Moving Co also provides free moving quotes. This allows you to obtain an accurate estimate of the costs involved in your move, ensuring transparency and enabling you to make informed decisions. In summary, Reebie Storage and Moving Co is synonymous with professionalism, reliability, and customer satisfaction. Their experienced team is prepared to assist you throughout your entire moving journey, and their dedication to excellence ensures a seamless and superior moving experience.
Long Distance

International

Corporate Relocation

Office

Industrial

Warehousing

Logistics

Delivery Services

Commercial

Small

Apartment

Packing & Storage Services
Excellent communication. Bill R. did the initial quote simply via FaceTime. Crew arrived early to the job and were professional the whole way through. Elevator stopped working for part of the move-out and they made the best of it, while the issue was being corrected. Long day due to the amount of items I have, but efficient same day move-out and move-in. Would highly recommend! Thank you, J. Romero, M. Zapata and J. Arredon!
Called Reebie for help on short notice for a local move. Andrew was super helpful, professional, and flexible. Their rates were very reasonable. We ended up doing the move ourselves (because of COVID exposure), and Andrew was understanding and wished us well. I will definitely call Reebie for future moves. Highly recommended.
The Reebie team was thorough, clean, and careful with our move. Juan was a wonderful lead man and accommodated our requests. The three other gentlemen were very polite and careful. We are so pleased with their work and would highly recommend this moving company.
Mon-Fri: 7am - 9pm
Sat: 8am - 5pm
Sun: 9am - 6pm
Nearby Moving Companies in Naperville: